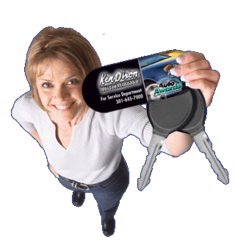 I love the program! ... The Will Be D.D. Program provides responsible citizens with a valid option.
Waldorf, Maryland (PRWEB) December 12, 2011
Ken Dixon Automotive is being congratulated throughout the community of Southern Maryland for their decision in supporting the organization as a Silver Corporate Sponsor. The automotive super-store operates several dealerships throughout the Rt. 301, Waldorf strip, often referred to as "Auto Row" and employs over 100 employees locally. Their support in this life saving program isn't all they've been up to either.
A recent news article published by Gretchen Phillips, Staff Writer with the Maryland Independent reflects the organization's unique marketing strategy with the distribution of pens – hundreds of thousands of pens. Read the article here.
With hundreds of cars in inventory and a nifty CarFinder service found on their website, customers can feel confident in knowing their needs will be met by their experienced sales staff. Ken Dixon Automotive also has a point system tied into their Loyalty Program. In fact, their Auto Awards program gives 15% cash back on every purchase and can be used toward a reduction in the sticker-price.
When commenting on the Will Be D.D. program, Tayman exclaimed, "I love the program! Prior to program launch, our community did not have any viable options to avoid drinking and driving other than just deciding to stay home ~ we all know this isn't realistic. The Will Be D.D. Program provides responsible citizens with a valid option."
With over 390 alcohol-impaired drivers removed from the roads across the United States, and an estimated 40+ more people with advanced reservations in Colorado, Delaware, and Maryland, the organization is rapidly growing. In fact, the have recently launched a new Chapter location covering King George and Fredericksburg, Virginia areas.
Know someone that may have interest? Contact Seanna Smallwood for more information.
# # #