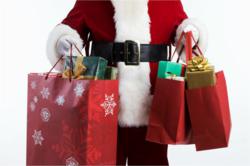 "Don't let thieves ruin your holidays. Taking a few preventative measures will help make shopping for your family and friends safer and more enjoyable."
LINCOLN, RI (PRWEB) December 09, 2011
Holiday shopping can be hectic, with lots of distractions that can leave shoppers more vulnerable to theft. That's why Amica Insurance reminds everyone to protect their wallets and credit cards and be extra cautious while shopping for the perfect gifts.
"Holiday shopping can be overwhelming, especially if you're in a rush and thinking about other things," said Lisa Melton an assistant vice president with Amica Insurance. "That's why it's important to always stay alert while shopping."
Make sure to keep a close eye on your pocketbook, which is always a target for thieves, Melton said. Don't leave it in your cart while shopping or on the seat of your car while loading packages. And make sure your wallet is safely tucked away inside a pocket or a closed purse.
Here are a few more reminders for safe shopping:

Avoid carrying large amounts of cash and credit cards.
Try to shop on the weekdays, when there are less people.
Park in well-lit areas.
Store purchases in your trunk.
Never leave anything of value visible in your car.
If possible, shop with a friend or family member, especially if you plan on shopping at night, Melton said. Park close to the entrance of a store and be alert when leaving. If something doesn't feel right, go back in the store or ask a security guard or store manager for assistance.
If you plan on doing the majority of your shopping online, that can also be risky, so be careful, Melton said. Always shop on well-known websites and stick with familiar companies. And be sure to check your credit card statements for unauthorized charges.
Here are a few other tips for online shoppers:
Never provide your credit card number or personal information if the website is not secure.
Keep records of every order.
Stay away from deals that sound too good to be true.
"Don't let thieves ruin your holidays," said Melton. "Taking a few preventative measures will help make shopping for your family and friends safer and more enjoyable."
###