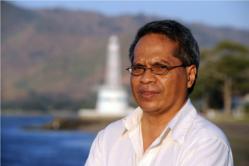 It is a great honor to have been selected for this award. We owe this recognition not just to the CEPAD team, but to all the brave Timorese across the country that have participated in our work, sharing their ideas, inputs and insights
Geneva/Dili (PRWEB UK) 11 December 2011
The Sergio Vieira de Mello Award will be presented to Interpeace local partner in Timor-Leste on Monday 12th December.
Joao Boavida, Executive Director of the Centre for Peace and Dialogue (CEPAD) will be accepting the prize from Nobel Peace Prize Laureate and President of Timor-Leste, José Ramos-Horta.
Boavida will be present to accept the prize on behalf of CEPAD and all those brave individuals that support the organization's peacebuilding work.
"The CEPAD team is working tirelessly to enable Timorese society to build lasting peace. A country with a violent past is now turning itself around to become a flagship example of how peace must be build from within a society. Respect for human rights is a key part of this process," explains Renée Larivière, Programme Development Director at Interpeace.
CEPAD was created following the devastating violence of 2006 that resulted in a number of deaths and extensive destruction of property. More than 160,000 people fled to rural districts, with many ending up in internally displaced persons' camps in and around Dili.
"It is a great honor to have been selected for this award. We owe this recognition not just to the CEPAD team, but to all the brave Timorese across the country that have participated in our work, sharing their ideas, inputs and insights," stated Joao Boavida, Executive Director of CEPAD.
Larivière confirms: "The peacebuilding work carried out by the CEPAD team is exemplary. In difficult conditions they never lose site of the being inclusive, no matter the subject they are dealing with. It has been through this approach that they have managed to achieve so much, importantly, with the support of all levels and sectors of society."
Sergio Vieira de Mello, acting as the UN Secretary-General Special Representative in Iraq, was killed, with 21 of his colleagues, in a car bomb attack in Baghdad on 19 August 2003. This award, the annual lecture and other events and prizes commemorate his life and achievements.
____________
About CEPAD
The Centre of Studies for Peace and Development (CEPAD) is a Timorese NGO that was established in 2007 in response to the violent political crisis of 2006. It uses collaborative research and dialogue engagement to advance the understanding and address conflict-related issues and the major challenges to democracy in Timor-Leste.
Timorese national, João Boavida, is the Executive Director of CEPAD. The CEPAD team has extensive experience in engaging with local communities and key stakeholders since 2007 as a means to address the question of how to overcome conflict and build sustainable peace in Timor-Leste.
The CEPAD board is made up of respected individuals from different sectors of society, as well as representatives from each of the four sovereign bodies which form the state of Timor-Leste; namely, the Parliament, Government, Presidency and the Supreme Court.
CEPAD works in partnership with Interpeace, an international peacebuilding organization.
______________
About Interpeace
http://www.interpeace.org
TWITTER: @InterpeaceTweet
Interpeace is an international peacebuilding organization headquartered in Switzerland with programmes in 16 conflict-affected countries.It was created by the United Nations in 1994 to work with societies divided by violent conflict to build sustainable peace. It became independent in 2000 and today has an innovative operational partnership with the UN.
Interpeace currently supports peacebuilding programmes in Burundi, Cyprus, Guinea-Bissau, Israel, Liberia, Palestine, Rwanda, the Somali Region, Timor-Leste and on Youth Violence Prevention in Central America (Guatemala, Honduras and El Salvador, Nicaragua, Costa Rica, Panama, Belize), and has a thematic programme on post conflict constitution-making.
###