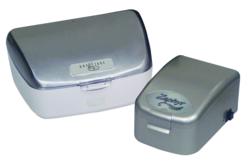 Johnson City, TN (PRWEB) December 21, 2011
Dry and Store is an electrical appliance intended for use every night for the care and maintenance of hearing instruments of all types. Dry & Store's patented process combines gentle heat with a super-absorbent desiccant to completely remove damaging moisture.
When Dry & Store was first introduced in 1997, instructions followed the existing protocol; remove batteries when placing hearing aids in the conditioning unit. However, comments from users who "admitted" they had not removed their batteries seemed to notice longer battery life.
In 1998, Energizer conducted tests and found that leaving batteries in hearing aids during Dry & Store conditioning did no harm to their zinc air batteries and under high humidity conditions, Dry & Store conditioning actually helped extend battery life.
In 2003, an interview with the Zinc Air Technical Manager at Rayovac, published in Audiology Online also acknowledged the benefit of leaving batteries in hearing aids during the drying process when their aids are used in high humidity conditions.
Dry & Store users have continued to report dramatic increases in battery life, possibly due to the combination of functions – drying the hearing aids as well as drying the batteries: greater efficiency of the electronics when not impeded by moisture, improved battery contact points due to corrosion prevention, and simply because it takes less energy to drive a dry hearing aid than one that has diaphragms saturated with moisture.
The bottom line: the "generally accepted practice" relative to removal of zinc air batteries is reversing its course which is good news for hearing aid users who no longer have to fumble with tiny batteries to remove them prior to condition.
Ear Technology Corporation in Johnson City, TN, states "we cannot speak of other hearing aid dryers, as we do not know their operating temperature and conditions, but we are confident that Dry & Store conditioning does no harm to zinc air batteries and in many cases, can/does improve battery life".
Dry & Store is distributed worldwide and is recognized worldwide as the pinnacle of hearing instrument care. Dry & Store products can be purchased online at the company's website, http://www.dryandstore.com or through local hearing healthcare professionals. Visit http://dryandstore.com/Locator to find a retail source new you.
Additional information can be found at website: http://dryandstore.com Follow us on Facebook (facebook.com/DryandStore
# # #