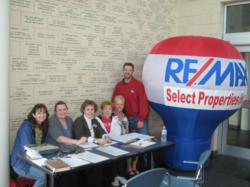 This office and our agents are a deep-seeded part of this community and we feel passionately about the opportunity to sponsor events like this
Ashburn, VA (PRWEB) December 10, 2011
RE/MAX Select Properties, a Northern Virginia Real Estate Company, prides itself on giving back year-round. The company recently sponsored an INOVA Blood Drive in Ashburn, VA benefiting an organization that supplies lifesaving blood and blood products to 15 different hospitals in Northern Virginia and the Washington, D.C. metro area.
Several local RE/MAX Select Properties agents and staff members from the office, including JJ Stakem, Ann Noel, Scarlet Lovell, Bob Caines, Melissa MacKimm and Laural Walsh, were able to recruit 31 donors and collect 25 units of blood, which is enough to help up to 75 patients.
"This office and our agents are a deep-seeded part of this community and we feel passionately about the opportunity to sponsor events like this," stated JJ Stakem, Operations Manager of RE/MAX Select Properties located in Ashburn, who went on to say, "Together with friends and family, we hope that we can raise awareness about the importance of blood donation in our community."
Since 1995, donors and volunteers have helped INOVA provide a safe and adequate blood supply for patients in the diverse community. In recent years, the demand for blood continues to increase while blood donation levels are decreasing, which emphasizes just how important RE/MAX Select Properties' commitment to INOVA has been.
For more information about INOVA and its services, or to get involved, visit http://www.inova.org. RE/MAX Select Properties has more than 50 Associates serving Loudoun County. To see a list of all RE/MAX Select Properties listings, to find a real estate professional and for more information on their fundraising efforts visit http://www.myselectproperties.com or follow us on Facebook.
About RE/MAX Select Properties, Inc.
RE/MAX Select Properties was founded in 1987 in Sterling, Virginia by Jim and Phyllis Stakem. It has grown to a network of over 50 Sales Associates in three offices throughout Loudoun County, VA. RE/MAX Select Properties has the highest per agent annual production of any real estate franchise in the Northern Virginia Area.
RE/MAX is proud to help raise money and support charitable organizations like, INOVA Susan G. Komen Race for the Cure, Children's Miracle Network and numerous other local charitable organizations.
###