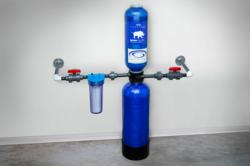 Every household in America, on municipally treated water, has an elevated level of chloroform gas in the air, specifically from showering, washing dishes, washing clothes, and flushing toilets.
Minneapolis, MN (PRWEB) December 13, 2011
The webmaster of the Whole House Water Filter website today announced the launch of the company's newly redesigned and updated website. The staff added new information which includes helpful advice and expertise on water filtration systems. Another update to the site includes a video that was produced by the Dr. Oz television show which focuses on the benefits of installing a whole house water filter.
In the video Dr. Mehmet Oz discusses the harmful chemicals that are found in water and how water filtration systems can be beneficial to a family's health. He also discusses the state of water quality in America and what people can do to improve the water they use in their homes. Dr. Oz validates reports that show house water filter systems are extremely useful in removing most of the unwanted chemicals.
In addition to adding videos to the new Whole House Water Filter System website, the company published several new articles on water filtration systems that focus on the benefits of filters, and also answered visitors' questions. Articles currently available on the website include:
*Why a UL Certified Whole House Filter is Essential
*6 Reasons Why a Whole House Water Filter is Better
*Whole House Water Filter Health and Savings Benefits
*Whole House Filtration Systems Comparison Chart
*How to Install a Home Water Filter System
Understanding the challenge of finding quality information online, the company's chief goal is to be as helpful to customers as possible. Whole House Water Filter System is excited about the newly redesigned site and is eager to continue engaging with the site's visitors.
About
WholeHouseWaterFilter.us is dedicated to offering comprehensive information to help homeowners make an informed decision when purchasing a new water filtration system for their home. For more information please visit http://www.wholehousewaterfilter.us/.
Contact
Steven Wiebe
P.O. Box 21394
Minneapolis, MN 55421
Phone: 763-291-8342
###