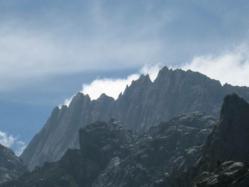 Ashford, Washington (PRWEB) December 12, 2011
RMI Expeditions expands their international climbing destinations to include Carstensz Pyramid. As one of the seven summits, the highest mountain in each continent, Carstensz Pyramid stands 16,023 feet tall. Located on the island of New Guinea, Carstensz Pyramid is the tallest mountain in Oceania.
The 21 day expedition starts on the beaches of Bali and proceeds through Papuan jungles on the way to the rocky summit. The climb of Carstensz Pyramid begins with a multi-day trek, followed by a rest day at basecamp and a summit day with a pre-dawn start. The climb requires rock scrambling, fixed line, and an adventurous spirit.
RMI's forty year experience of leading mountaineering expeditions makes them uniquely qualified to lead an expedition to Carstensz Pyramid. The climb will support the development of local enterprise as RMI Expeditions is the only American guide service to work with a local Papuan partner for logistics.
"We are gearing up for the summer 2012 guided climbing expedition to New Guinea and Carstensz Pyramid, and are excited to offer unmatched logistical support on yet another of the seven summits," states Alex Van Steen, one of the RMI guides who will be leading the climb.
Scheduled for June 23 – July 13, 2012, the RMI Expeditions trip to Carstensz Pyramid will be lead by guide veterans Mark Tucker and Alex Van Steen. Learn more about climbing Carstensz Pyramid.
Rainier Mountaineering, Inc (RMI Expeditions) is one of America's most reputable and long-standing guide services with over 42 years of mountain guiding experience. An American Mountain Guiding Association (AMGA) accredited guide service specializing in mountaineering expeditions, alpine climbing, trekking and ski touring programs, RMI is committed to leading exceptional mountain adventures.
###