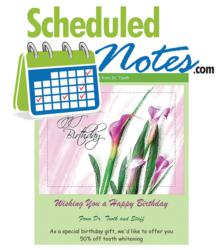 Schedulednotes makes our email marketing easy and effortless. The positive response we get regularly from our patients tells us the system works! - (H.R. -Dental Office Manager)
Boca Raton, FL (PRWEB) December 09, 2011
With the release of version 2 of its relationship based email marketing system, ScheduledNotes offers features previously only found in more expensive, more complicated email marketing systems. Version 2 features simple to use, enhanced custom email and newsletter features that allow the user to create eye-catching marketing and informational pieces with a few clicks of the mouse. Add to that the new, robust reporting and email tracking, and the core automatic greeting card scheduling features, and you have a total system that's designed to be simple enough for anyone to use—and at a cost of less than 50 cents a day, affordable for even the smallest businesses.
So who can benefit by using ScheduledNotes? Anyone with email addresses on file for their customers, clients, patients, or business associates. That includes professional offices in the medical, dental, accounting and insurance fields; Service based businesses like appliance maintenance companies, auto-repair or cleaning services; Personal services such as hair salons, spas, personal trainers and limousine services as well as retail stores. In short – if maintaining relationships is important to your business—and in today's economy, relationship building is critical to maintaining and expanding everyone's client base—then ScheduledNotes is for you.
The ScheduledNotes system allows you to automatically import your client information from virtually every email or industry specific software application and then automatically schedule part or all of your contacts to receive greeting cards for every occasion throughout the year, marketing emails like coupons, special offers and reminders, or educational newsletters. But it's the ease of use that really makes ScheduledNotes shine.
For example, once your email contacts are scheduled for a holiday or a birthday card, they're automatically scheduled to receive the card year after year. And every card can be customized to contain marketing messages like "Wishing you a happy birthday – please accept this gift of 30% off on your next visit", or "Happy New Year – Ring in 2012 with these special savings" in addition to the holiday or birthday greeting.
But ScheduledNotes is so much more than just a system to automate sending greeting cards. The single card feature lets you quickly send off an attractive card to convey messages like "Thank You" or "Get Well Soon", The custom email feature allows you to upload your own images and quickly create marketing pieces like reminders and coupons and schedule them to send one time, or automatically on the recurring schedule you choose. The newsletter feature lets you create elegant, professional looking newsletters that you can send to keep your clients up to date about what's going on in your business, or provide them with other information that will help them stay connected to you. Between greeting cards, custom emails and newsletters, ScheduledNotes users can safely send a variety of marketing emails every month, without the risk of alienating customers who feel like you're sending to much email.
ScheduledNotes version 2 has launched just in time to take advantage of the opportunity to send cards for the holiday season and get your email marketing campaign started by wishing all of your customers "Seasons Greetings". And in their own effort to "spread a little holiday cheer" ScheduledNotes is offering 25% off the regular annual or monthly subscription price if you register before December 15th. Just enter the Coupon Code, SCN61766
To sign up today, visit http://www.schedulednotes.com and click the register button.
###