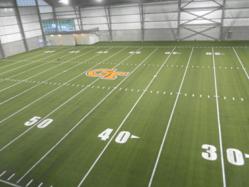 (PRWEB) December 11, 2011
Georgia Tech unveiled its new state-of-the-art practice facility early this season, one of only two indoor specific facilities in the ACC. Named after donor's John and Mary Brock, the new Brock Indoor Football Practice Facility focuses on more than just improving the Yellow Jacket's game. The building design, which happens to resemble an airplane hanger, also aims to safeguard athletes from injury, conserve energy and recycle water.
The 88,000 square foot facility includes a 90 yard football field, featuring a Shaw Sportexe PowerBlade HP+ synthetic turf system that has the appearance of natural grass while specifically engineered to enhance athlete performance.
As football related injuries, especially concussions, are becoming an issue of great concern, coaches are demanding increased safety precautions for their athletes. For Georgia Tech, the ultimate level of safety was reached by installing an engineered shock pad, called Brock PowerBase, beneath the turf system. Unlike rubber or reinforced foam underlayment systems, PowerBase isn't spongy, a characteristic that can cause athletes to overcompensate during play and become more fatigued. Instead PowerBase absorbs the blow of impact in multiple directions throughout the systems surface, providing athletes superior shock attention.
In alignment with Tech's commitment to reduce the impact on the environment, Brock PowerBase is a certified Cradle to Cradle, pure non-toxic product that can be used over and over again. Best of all, once removed, the entire Shaw Sportexe turf system can be recycled and repurposed in a variety of ways including conversion back into materials used for new flooring products and energy production.
The practice facility also touts other sustainability accoutrements including a 280,000 – gallon rainwater collecting system that will collect enough rain to water three nearby sporting fields for two weeks. The building also boasts energy efficient lighting which helps to protect the environment by reducing greenhouse gas emissions in the fight against climate change.
About Shaw Sportexe
A subsidiary of Berkshire Hathaway, Inc. Shaw Sportexe is one of the leading synthetic turf companies in North America. Shaw Sportexe has represented quality and innovation for more than two decades with over 900 successful installations, including an impressive list of high-profile field installations. For more information please visit http://www.shawsportexe.com, call 866-703-4004 or find us on facebook.
###