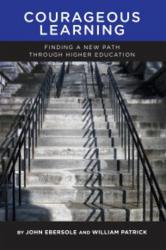 "It's not good enough to get people to higher education... You've got to get them through," said Mark Milliron, former Deputy Director for Postsecondary Improvement, Bill & Melinda Gates Foundation
Albany, NY (PRWEB) December 12, 2011
President Obama and Secretary of Education Arne Duncan gathered recently with higher education leaders to tackle the challenges of improving college graduation rates and curbing the cost of earning a degree. The discussion also touched on the millions of adults who have some college but no degree, and their stories are among those covered in a new book, Courageous Learning: Finding a New Path Through Higher Education.
Written by Excelsior College President Dr. John F. Ebersole and award-winning co-author William Patrick, Courageous Learning takes on many of the education summit's issues: the financial and academic viability of traditional, campus-based education and the need for a comprehensive look at alternative approaches such as online education, earning credit by examination, and aggregation of credit.
Published by Hudson Whitman, the Excelsior College press, the book offers crucial insight for educators and policy makers, as well as practical information for adults who want and need to complete their postsecondary degrees.Excelsior College is a nonprofit, regionally accredited distance learning institution founded in 1971.
President Ebersole, a leading advocate for adult degree completion and post-traditional solutions to higher education challenges, said, "Courageous Learning was written to say, 'Yes, you can finish your degree. Yes, you can do it affordably. Yes, you can do it with schools that have excellent credentials. Yes, you can do it on your schedule. And here's how.' "
This book is aimed squarely at policymakers, at the millions of men and women in the American workforce who haven't completed their college degrees and at colleges and universities looking for ways to adjust to the new economic realities of higher education.
Highlights of Courageous Learning, which is available as both an e-book and a paperback, include:

Inspirational interviews with graduates of adult-serving institutions.
Interviews with eight of the nation's most outspoken proponents for education reform including Martha Kanter, U.S. Undersecretary of Education; Mark Milliron, former deputy director for postsecondary improvement with the Bill & Melinda Gates Foundation, and James Applegate of Lumina Foundation.
Easy-to-understand definitions of terms such as online learning, credit by exam, credit by assessment and transfer credit.
Guidance on taking a non-traditional approach to higher education degree completion.
Profiles of cost-effective, accredited, nonprofit adult-serving institutions.
"It's not good enough to get people to higher education…You've got to get them through," said Mark Milliron, in an interview in the book.
In a recent blog post, Empire State College President Alan Davis wrote that the radical innovations of the schools profiled in Courageous Learning "are making more and more sense in this new world of digital 'open learning.'"
Courageous Learning:
Dr. John Ebersole and William Patrick
Hudson Whitman/Excelsior College Press
$7.99 e-book
$11.99 print
240 pages
ISBN: 978-0-9768813-1-5
Preview or purchase online at http://www.hudsonwhitman.com.
Also available at your favorite e-bookstore.
Hudson Whitman Contact:
Susan Petrie, Director
Hudson Whitman/ Excelsior College Press
spetrie(at)excelsior(dot)edu/
518.608.8156
For an interview with Dr. John Ebersole, contact:
Ellen G. Lahr
Communications Director
Excelsior College
518.608.8280
elahr(at)excelsior(dot)edu
About Hudson Whitman Press
Hudson Whitman, the Excelsior College press, publishes compelling, useful, and reasonably priced books in a variety of formats that appeal to engaged readers both within the Excelsior community and the larger community of book readers. It is our belief that these books will act as a positive force in peoples' lives while supporting and furthering the academic mission of Excelsior College, a nonprofit, regionally accredited distance education institution based on Albany, New York.
###