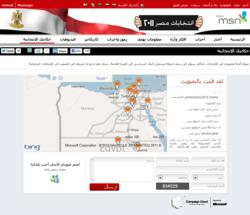 What's important is that we've proved that we're civilized democrats. Regardless of whether we're at the voting booths or at the sit-in in Tahrir Square, we're all Egyptians.
Cairo, Egypt (PRWEB) December 09, 2011
One week after the Egyptian people voted in the first full democratic elections since January's revolution, CEO Ravi Singh is traveling to Cairo to promote a joint website Microsoft Egypt and ElectionMall have launched. "Egypt Votes" was launched to deliver insight into the experience of voters and publish the election results as they are announced. Egypt Votes was launched in conjunction with ElectionMall, a non-partisan political technology company, Egyptian news portal Masrawy and MSN Arabia.
Ravi Singh, CEO of ElectionMall, said, "We believe we can make a difference and share our resources with local teams to provide a voice on the election results. We are in historical times and we built this company to promote democracy world-wide. To walk on Tahrir Square and view people on their mobile phones posting comments and sharing their voice: this is why ElectionMall was created, as technology can increase political participation via technology."
Engineered with transparency as a top priority and hosted on Microsoft' Azure Platform, Egypt Votes displays an interactive map of all governorates across the country, and provides a platform for Egyptians to share their experiences after posting their ballots. The website is also showing the election outcomes governorate by governorate as the results are published by Egyptian authorities by clicking on custom pins on the Bing Maps application. Users will also be able to view comments by governorate and share their comments via social networks.
Ayman Abdellatif, General Manager for Microsoft Egypt, said, "Social networks have provided a critical outlet for people sentiment and information exchange throughout the Arab Spring and technology plays a pivotal role in monitoring these elections. Our website built with our strategic partners gives Egyptian voters the opportunity to share and discuss their personal experiences of this historical election online."
The site gives Egyptians the opportunity to share their experiences after they've voted and leading up to their presidential election. Examples include, Ahmad Rizq from the city of Damietta who wrote, "I have a bed-ridden mother who can only get around in a wheelchair. She told me she wanted to go vote. When the military officers saw her at the polling station, four of them came over to carry her up to the third floor and then bring her down. I'm very proud to be Egyptian."
Mahmoud Sibaq of Alexandria commented, "It doesn't matter who wins. It doesn't matter who boycotted the election and who took part. What's important is that we've proved that we're civilized democrats. Regardless of whether we're at the voting booths or at the sit-in in Tahrir Square, we're all Egyptians."
Egypt Votes was designed in collaboration with ElectionMall, a Microsoft partner with experience in developing online solutions for electoral platforms, including recent presidential campaigns in Colombia and Ireland. In order to increase visibility and encourage voters to share their experiences, Egypt Votes can also be accessed via Masrawy, the first and largest Egyptian portal, and currently one of the biggest Arabic news websites. Additionally, voters can access the site via MSN Arabia, Microsoft's portal providing access to Arabic-language news and other online solutions.
To visit the website and participate: http://arabic.arabia.msn.com/elections/egyptvotes.aspx or http://www.masrawy.com/elections/egyptvotes/
About Election Mall Technologies
Established in 1999, ElectionMall.com is a non-partisan world leader in providing on demand cloud-based solutions for campaigns and elections worldwide, effectively utilizing technology and business know how to enable candidates, advocacy groups, and nonprofits to generate enhanced gains in awareness, funds, & votes. ElectionMall launched a new product, Campaign Cloud powered by Microsoft, last year and it has been used in campaigns across the United States and recently in presidential campaigns in Colombia, Brazil and Ireland. ElectionMall.com is the exclusive partner for Microsoft in the campaigns and elections market. ElectionMall is headquartered in Washington, D.C., with international offices in Brussels, Bogota and Dublin. For more information, visit http://www.ElectionMall.com or follow on Twitter @CampaignGuru, join us on Facebook, and watch our latest videos on YouTube.
###