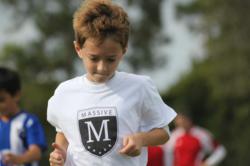 As a parent and manager of both a son and daughter in competitive soccer, for many years, Fraser is the most knowledgeable and professional trainer I have come across. His ability to coach the game whilst making it enjoyable is amazing.
(PRWEB) December 11, 2011
As LA Galaxy's David Beckham began his illustrious playing career 'on' the field in the UK, Fraser Foster was beginning his career 'off' the field. At 19 Foster became one of the youngest coaches to pass soccer's, FA Advanced Coaching license, later to become the UEFA 'A' license, which is recognized and respected throughout the world. As Beckham was busy developing his game with Manchester United, Foster's game for developing players and programs for youngsters in the UK and across the globe was quickly gaining momentum.
As Beckham now contemplates a switch back to the UK and their English Premier League, 20 years after his career began Foster is bringing his English Premier League coaching experience and expertise to youth programs across the USA.
Foster has been recruited to the USA to head Massive Soccer Coaching, a youth development initiative from Massive Creative Inc's President, Anthony D'Elia. D'Elia says of Foster: "Fraser has enjoyed a career developing youth programs at three professional clubs in the UK, the most recent being West Bromwich Albion FC, in addition to working for the Professional Footballers Association, under the games recognized CEO, Gordon Taylor. We received countless recommendations of Fraser's work from the leading names in the game in Europe. Fraser's knowledge and long term vision for youth development is an area we felt was much needed for the youth soccer players in the USA".
Foster, formerly head of the Premier League's West Bromwich Albion FC Youth Community Program, is well versed in the long-term development of sustainable youth soccer programs. At the English Premier League club he ran a department that employed 26 full time soccer coaches working with 40,000 young players each year. He was featured on the BBC's flagship soccer program – Match of the Day, which has a viewing audience of 10 million people each week.
Foster's name may not be recognized like Beckham's across the news desks but the impact he has had across the globe in developing the game is well recognized by those he has worked with.
Foster, now living in the USA still remains one of the Premier League's Head Coaches for their Premier Skills Program. A role that Fox Soccer's presenter and ex-England player Warren Barton, previously held before moving across to the US. With a very busy travel schedule this year, the demand for Foster's expertise has taken him to Asia, Africa, North America, and Europe. Foster recently returned from a 12-day trip with the world's most famous league to South Korea where he trained local coaches and created sustainable long-term development plans for their communities. Earlier this year between training in the US and England, Fraser was invited to Ethiopia and Shanghai as part of the Premier League's Program to train and educate coaches. Accolades and respect continue to follow Foster as he develops soccer players here and abroad.
Based in Florida, Foster is building a team of highly qualified coaches with links to Colleges and UK Professional Soccer Clubs, as well as the English Premier League. Whilst Foster on a day-to-day basis is committed to developing local, long-term sustainable programs in Florida, Massive Soccer Coaching has already made its unique expertise available to clubs and schools in states outside of Florida. "Our camps and coach education programs are different to 'traditional soccer camps' here in the USA. We work with clubs to develop long-term goals for their players by supporting their coaches and providing ongoing development for their club. The benefits of this work are already being recognized locally by both clubs and parents".
"We have experience and expertise that we are finding players and parents are wanting more and more of here in the USA. We are keen to share that expertise and make it available across the USA through our camps, development programs and Centre's for Excellence. Our longer term thinking and previous success in developing players allows us to help clubs put plans in place for their players now so they are better skilled players, and have better links to both colleges and improved career opportunities."
Massive Soccer Coaching is offering their Premier League experience to youth players in the USA. If your club, school or organization is interested in utilizing expertise from the team at Massive Soccer Coaching for camp, training or development work you can contact Fraser direct on 772.341.5595 or via email at soccer(at)massivecreativeinc(dot)com or through our Facebook page at http://www.facebook.com/Massivesoccer
More about Massive Soccer, Fraser Foster and his team of experienced coaches can be found at http://www.massivesoccercoaching.com.
###