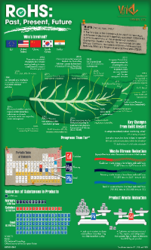 Our aim was to provide a useful resource to those looking for a quick overview of RoHS.
Austin, TX (PRWEB) December 13, 2011
What is RoHS? When did it begin and who's involved? What's been accomplished thus far? Where can I get an overview of RoHS? Venkel recently released "RoHS: Past, Present, Future", an infographic designed to answer these questions. The Restriction of Hazardous Substances Directive (RoHS) was introduced in 2003 by the European Union to restrict the usage of six hazardous substances in the manufacturing of various types of electrical and electronic products and equipment.
Conceived by Venkel Ltd., the Austin, Texas based electronics supplier of Surface Mount Components, the infographic is intended to be a helpful resource to those that are learning about RoHS, as well as those that are familiar with the directive. To the uninitiated, the infographic provides a simple visual overview of the directive and to those that are familiar with RoHS, an easy to digest review of the legislation.
Why a RoHS infographic? Up to this point, searches for an overview of RoHS yielded text-only results. With the explosion of infographics as a medium to communicate information in an engaging visual format, the RoHS infographic provides an easy to digest summary of RoHS in a format that many are familiar with.
Alex Rivera, Environmental Compliance Manager for Venkel Ltd., said "Our aim was to provide a useful resource to those looking for a quick overview of RoHS. With the popularity of infographics and their effectiveness in representing various types of information in a visually-compelling way, we thought the format would be perfect for this project. We hope it's a helpful resource."
"RoHS: Past, Present, Future" is available from the Venkel website, no registration is required. A pdf download of the infographic is available.
About Venkel Ltd.
Venkel Ltd. offers a complete line of Surface Mount Components including Capacitors, Resistors, Inductors, Ferrite Beads, Thermistors, Choke Coils and Resistor Networks. Founded in 1986, the privately-held, family-operated company provides components in prototype-to-production quantities as well as Supply Chain Management Services to OEMs, Contract Manufacturers, Distributors and Engineering Firms. Venkel is based in Austin, TX and has offices in California and Toronto, Canada. For more information about Venkel please visit http://www.venkel.com or call 800-950-8365.
###