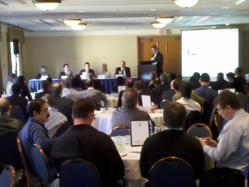 I was very impressed with the overall event, the focus on CIO to CIO connection, and in particular, the level of engagement during the panel discussion.

Michael Strand - West Region General Manager, Dynamics
Microsoft
Chicago, Illinois (PRWEB) December 26, 2011
On Thursday December 1st at the Nikko Hotel in San Francisco, CIOsynergy held an exceptional event, where leading local CIOs and IT executives were motivated by none other than the master of innovation, founder of Travelocity.com, Chairman of Kayak.com, and former CIO American Airlines/Sabre Terry Jones. Mr. Jones not only challenged the audience to think outside the box, he inspired them with ideas and actionable items to implement within their organizations.
The CIO panel integrated by Dean Lane, CIO - Henley-Putnam University; Robert Oyung, CIO - SF supreme Court; Michael Skaff, CIO - SF Symphony; Gerri Martin-Flickinger CIO – Adobe; and Nancy Burghart-Hall, CIO – MedAmerica; discussed the emerging trends in enterprise IT and their impact on greater efficiency and cost effectiveness. They also captivated attendees by sharing strategies, successes, failures and lessons learned, as an important part of the continual education of an effective IT leader.
CIOsynergy San Francisco provided the ingredients for 'thought leading' conversations that secured relationships well after the doors of this event closed. Market Sponsors included Microsoft, Avasant, Globant, Persistent, Ping Identify, Wanova, LANDesk Software, Dasher Technologies, EnStratus, Barracuda Networks, Webfortis, Mokafive, and Bear Data Solutions, amongst others.
For more information about or to participate in future CIOsynergy events visit http://www.ciosynergy.com, or contact Carlos Mendez, Event Director, at carlosm@ciosynergy.com or 1.877.532.3480 ext. 411.
About CIOsynergy
CIOsynergy was founded to provide a unique platform to bring together the true visionaries of enterprise IT leadership. These are the "thought leaders" that instigate both change and stability within the organizations they serve.
The successful CIO is one that empowers themselves with the lessons, knowledge, and experience of a community", said Nepal Patel, Principal of CIOsynergy. CIOsynergy like no other brings forth a community of IT Leaders under the umbrella of world renowned leaders and visionaries to the likes Steve Forbes, Jimmy Wales, Howard Putnam, Jeff Ma, Frank Abagnale and Terry Jones.
For more information visit http://www.ciosynergy.com. Or call 1.877.532.3480 ext. 411
###