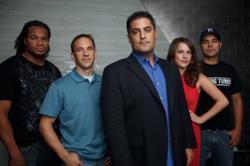 "It is honor to again be nominated for a Mashable award along with other prestigious brand names such as DKNY, WWE, Cirque de Soleil and SEGA."
Los Angeles,CA (PRWEB) December 12, 2011
The Young Turks (TYT) has been named a finalist in the Must-Follow Brand on Social Media category of the 5th Annual Mashable Awards presented by Buddy Media. Fans of TYT, the world's largest online news show, can vote online(http://on.mash.to/TYTFTW) through December 16.
The Young Turks were nominated for the work the show has done on its social media assets, including its Facebook, Twitter and YouTube accounts. TYT recently surpassed 600 million views on YouTube, including 30 million views a month – more than most cable news shows. The Young Turks' Twitter account has more than 40,000 followers and the network has more than 60,000 fans on Facebook.
"It is honor to again be nominated for a Mashable award along with other prestigious brand names such as DKNY, WWE, Cirque de Soleil and SEGA." said Cenk Uygur, TYT's host. "With the help of our fans we can drop an elbow from the sky, make a slam dunk, in order to crush our competition. Let's show them the TYT army is too strong."
The Young Turks have recently announced two partnerships that will expand the TYT Network. On Monday, Dec. 5, The Young Turks premiered on Current TV at 7 p.m. ET. The network also recently announced plans to produce its Town Square channel on YouTube as part of the site's new original channels initiative. The first show on Town Square will be The Point, a weekly political talk show.
The Young Turks was named the "Best Political News Site" as part of the 2009 Mashable Awards. The site has also previously won a Webby Award and a Shorty Award.
The 2011 Mashable Awards honor nominees and winners in 28 categories, specifically in the Social Media, Technology and Entertainment fields. The nominees were chosen through hundreds of thousands of votes from Mashable readers.
Winners will be announced Dec. 19 and will be honored at MashBash at the Consumer Electronics Show Jan. 11, 2012.
About The Young Turks: The Young Turks, the largest online news show in the world covers politics, pop culture and lifestyle. The show, which will also debut on Current TV in the fourth quarter of 2011, is one of the Top 50 YouTube Partners, with over 30 million views a month and 600 million total video views on The Young Turks YouTube Channel. An award-winning online broadcast, The Young Turks has received a 2011 People's Voice Webby Award for Best News & Politics Series, 2011 News/Politics Shorty Award, and Best Political Podcast 2009 at the Podcast Awards and Best Political News Site 2009 at the Mashable Awards. For more information, please visit TheYoungTurks.com, YouTube.com/theyoungturks or Current.com/shows/the-young-turks.
###