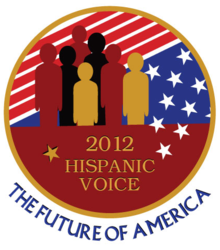 "We are becoming an increasingly diverse nation at a faster and faster rate. But American business leaders – and Americans in general – remain in denial about the implications of these facts,"
Irvine, Calfornia (PRWEB) December 12, 2011
2012 Hispanic Voice feels there is a misrepresentation of who Hispanics really are and it's time to educate everyone about the authentic portrayal of all immigrants in America. The 2012 presidential election is a defining moment not just for Hispanics, but the changing face of America. The United States represents a more diverse melting pot than ever before and it's time that we all become more knowledgeable about how these new faces and voices can contribute to America's future.
According to 2012 Hispanic Voice Founder, Glenn Llopis, "Hispanics must stop isolating themselves. Hispanics and non-Hispanics must find common ground to start working together and understanding one another. It's time for all of America to become better acquainted with the collective power of the unique immigrant perspective that is increasingly representing the changing face of America; its new identity and voice. Diversity must become part of the political conversation and what it means to the renewal of the US economy."
As the Hispanic population grows there are increased expectations. Business, government and society at-large are anxious for Hispanics to play a more substantially active role as leaders, innovators and role models. The lack of Hispanic leadership is affecting the mindset of Hispanic youth who seek Hispanic role models that embrace their cultural roots. For example, a recent Pew Hispanic Center study found that 74% of those surveyed could not name an important Hispanic leader in the U.S.
2012 Hispanic Voice is concerned that if Hispanics in America don't step-up, the US economy will face serious consequences that will impact our global competitiveness that has declined over the past three years. Hispanics must earn the right to become a more inclusive part of what matters to America's future. However, this only begins when Hispanics enable themselves to advance the struggling US economy. But this identity crisis not only exists amongst Hispanics, but others immigrant and minority communities. In fact, African Americans, Asian Pacific Islanders, and Hispanics made up over a third of the US population in 2010 and the trend continues. The population of two of those groups, Asian Pacific Islanders and Hispanics, are growing at approximately 8 times the rate of the white population. And one of those groups, the majority minority Hispanics, will represent 30% of the U.S. population alone by 2050. And with this population growth comes increased economic impact. Indeed, Hispanic purchasing power will be an estimated $1.2 trillion as early as 2012.
On January 11, 2012, this important conversation will begin - to educate all of America about start the authentic portrayal of immigrants with the kick-off the 2012 Hispanic Voice Town Hall Tour. As the majority-minority, America can no longer wait for Hispanics to define their future and their contributing role in America. This Town Hall Tour will allow all Hispanics to define their agenda that must include finding new ways to work together with our community but also engaging more holistically with others multicultural groups that have faced the same challenges.
"We are becoming an increasingly diverse nation at a faster and faster rate. But American business leaders – and Americans in general – remain in denial about the implications of these facts," concludes Llopis.
About 2012 Hispanic Voice Initiative
2012 Hispanic Voice is a nonpartisan initiative formed to help Hispanics in America understand the responsibility of their voice and the resurgence of their authentic identity in business and society in order to cultivate sustainable economic prosperity in America. The first tour stop will be held on January 11, 2012 at Hoiles Auditorium located at The Orange County Register at 625 N. Grand Ave., Santa Ana CA 92701. Registration is free, but attendance is limited. Registration for all Town Hall Tour events are to be completed online only at http://www.2012HispanicVoice.com. For more information on how you can host a Town Hall Tour event in your city and / or if you are interesting in being a volunteer, please contact us at: ideas@2012HispanicVoice.com
###