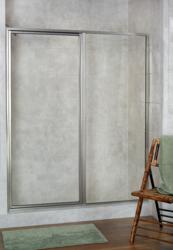 "The all new Legend shower door offers the fastest installation on the market today" - Ray Adams President, Coastal Industries
Jacksonville, FL (PRWEB) December 25, 2011
Coastal Industries, the leading shower door producer in the United States, has introduced the revolutionary new Legend series of shower doors. This easy to install new line of doors offers a tremendous amount of adjustability and slashes the amount of time needed to install a unit into an opening by up to 2/3.
"We have developed an affordable modular enclosure that provides a sturdy, watertight shower door with a minimal amount of cutting of extrusions," said Ray Adams, President of Coastal Industries. "This allows installers to get in and out of an opening in 15 minutes or less and move on to other things."
Incorporating adjustable panels with up to 1 ½" of adjustment, the Legend is ideal for DIY or multi-family applications where ease of installation and efficiency are paramount. By incorporating the door handle and drip sweep into the unit there are a minimal amount of parts and pieces to install. The integrated sill means there is no need to measure and cut any extrusions other than the header. Available in Bright Chrome, Brushed Nickel, and Oil Rubbed Bronze finishes, the Legend will complement any bathroom décor.
"The new Legend shower door is the fastest install available on the market today, and like all of our shower doors, is made right here in the USA", states Adams.
About Coastal Industries
Headquartered in Jacksonville, FL, Coastal Industries was founded by William M. Cobb in 1972 and will celebrate 40 years of quality and commitment in February, 2012. Coastal is the largest producer of shower doors in the United States operating out of their 250,000 square foot facility in Jacksonville as well as distribution centers in Atlanta, Charlotte, and Houston. Coastal produces a complete range of standard and custom shower door products to the residential and hospitality markets as well as recreational vehicle and boating markets. For more information on Coastal Industries and its products, contact the company at 800-874-8601 or visit their website at http://www.coastalind.com.
###