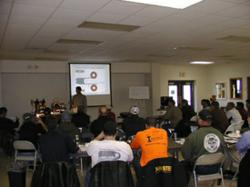 Very thorough and informative.
Mentor, OH (PRWEB) December 13, 2011
As requested by 75% of Roll-Kraft's Nebraska customer base, Roll-Kraft organized and conducted a regional seminar on October 27th in Waverly, Nebraska. In addition to those from Nebraska, many others from surrounding states also attended the session.
The program was presented Robert A. Sladky, Roll-Kraft's Vice President of Tube Mill Engineering.
Below is a sampling of some of the comments from the course attendees:

Five months into my job here, it was a great amount of pertinent data. I also think it's a great refresher training for more experienced operators.
It gave me a better understanding of operation and maintenance.
Very thorough and informative. Would be beneficial for all mill employees, not just operators.
I realized the importance of standards for setup and operation. Maintaining tooling is vital.
Being new to welding, this technical information has jump-started my education in this field and gave me several ideas of projects to implement to improve this department. I now have a better understanding of this information and am confident in the reasoning behind the science.
Roll-Kraft In-Your-Plant Training Sessions
Roll-Kraft also conducts on-site training sessions at customer facilities, on their own equipment. Visit Roll-Kraft's website for more information on tube and pipe training and roll forming training.
Roll-Kraft has its headquarters in Mentor, Ohio, and maintains other facilities in Frankfort, Illinois (Roll-Kraft Northern), and Ontario Canada (Roll-Kraft Ltd.). The company phone number is (888) 953-9400 or (440) 205-3100, and the fax number is (440) 205-3110. Please also visit the web site at Roll-Kraft.com. For easy and immediate contact with Roll-Kraft that transcends time zones and working hours, the website features Dr. Resolve. Simply complete and submit an on-line form and Roll-Kraft will respond.
###