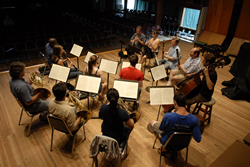 Marlboro Music is a world-acclaimed gathering place for elite musicians.
New York, NY (PRWEB) December 10, 2011
Yo-Yo Ma, who spent four formative summers in Vermont as a teenager at the unique classical music think tank – Marlboro Music – last weekend received the prestigious Kennedy Center Honor, recognizing artists that have influenced American culture. Yo-Yo Ma was joined by fellow recipients actress Meryl Streep, Broadway singer, Barbara Cook, jazz saxophonist, Sonny Rollins, and pop singer, Neil Diamond, in receiving the 2011 honor.
Marlboro Music is a world-acclaimed gathering place for elite musicians – masters exploring music together with the most exceptional young professionals for two months each summer. Yo-Yo Ma attended over four summers (1973-76) and credits Marlboro with his decision to become a musician. His first contact with key people involved in Marlboro was as a 6 year-old making an impromptu performance during a rehearsal in New York City. From age 16 to 20, and at a crossroads in his musical life, Yo-Yo Ma spent four summers at Marlboro in Vermont studying with the greats of chamber music. "Marlboro is the place where I decided to become a musician," says Ma. It was also at Marlboro that Ma met his future wife, Jill Horner, and long-time musical collaborator, pianist Emanuel Ax.
The Kennedy Center Honors ceremony will be broadcast on CBS on December 27th, 2011.
About Marlboro Music
Started in 1951 by musical émigrés from Europe, Marlboro Music is a unique summer school for elite musicians. Over seven weeks each summer, seventy-five emerging musicians collaborate with musical masters, exploring music with unlimited rehearsal time in the kind of depth not generally possible. With an emphasis on study and exchange of ideas, the school is recognized as an important musical incubator. Located in Marlboro, Vermont, the school's unique atmosphere and environment has produced three generations of the world's leading musicians. Visit http://www.marlboromusic.org.
# # #