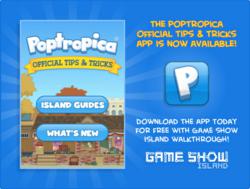 When kids get stuck on one of our quests, we now have an app for that," said Jeff Kinney, Poptropica creator and author of the bestselling "Diary of a Wimpy Kid" series.
Boston, MA (PRWEB) December 12, 2011
Poptropica fans can now learn more about the popular virtual world for kids anytime, anywhere with today's launch of the site's first official app for the iOS and Android platforms. Now available for free in the iTunes store and the Android Market, the Poptropica® Official Tips & Tricks app includes a walkthrough of the site's newest adventure, Game Show Island, along with additional Island Guides for in-app purchase.
Other Island Guides that will walk players through Mystery Train, Shrink Ray Island, Mythology Island and Spy Island are available for purchase in the app for $0.99 each, with more Islands to be added in the near future. With this official walkthrough app from the creators of Poptropica, players will learn all of the tips and tricks that they need to progress through the site's toughest Islands.
"When kids get stuck on one of our quests, we now have an app for that," said Jeff Kinney, Poptropica creator and author of the bestselling "Diary of a Wimpy Kid" series. "It is so cool to know that now kids can use mobile technology to learn more about Poptropica's great adventures and solve its challenging quests."
The Island Guides in the Poptropica app provide detailed information about the Islands. They introduce the main characters, important items that players need to progress through the game, and an in-depth look at the goals of the Island and what needs to be done to solve the quest and win the Island medallion. Each Island Guide features full-color screenshots and easy-to-read text to help master Poptropica's challenges.
"The kids playing Poptropica don't remember a time when there weren't mobile devices, such as iPhones and iPads, so it makes perfect sense for them to turn to an app for help exploring Poptropica," said Jess M. Brallier, publisher of Poptropica. "With the official app, our new guidebook and other resources, such as the 'Creators' Blog,' kids now have lots of different ways to get the tips and hints that they need to experience all of the great storytelling on our virtual world."
Recently celebrating the launch of its 22nd Island, Poptropica was named one of TIME magazine's Top 50 websites of 2011. The Poptropica Islands have been visited by more than 185 million kids worldwide since its launch in 2007. Players come from more than 130 different countries and have their web browsers set to more than 100 different languages, ranging from Spanish and Sanskrit to Vietnamese and Croatian. All Poptropica Islands are free to play, and each represents a unique theme and challenge.
About Poptropica (http://www.poptropica.com)
Poptropica is a virtual world in which kids explore and play in complete safety. Every month, millions of kids from around the world are entertained and informed by Poptropica's engaging quests, stories and games.
Kids create a "Poptropican" character to travel the many Islands of Poptropica and use gaming literacy to enjoy a narrative that is often rooted in factual history. Problem-solving skills are honed as kids discover and solve mysteries unique to each Island.
There are always new areas to explore in this ever-expanding world where kids can collect objects, read digital books and comics, watch movies and compete in head-to-head competition. Parents can always trust that their children are playing – and learning – in a safe online environment.
Poptropica is published by Family Education Network, a part of Pearson, the education, services and technology company. Pearson's other primary operations include the Financial Times Group and the Penguin Group.
###