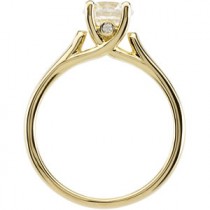 Carlsbad, CA (PRWEB) December 11, 2011
Bella Ideale Diamonds, a Carlsbad, CA on-line retailer of discounted fine jewelry is having an annual sale during the Holiday Season that offers 50% discounts on all engagement rings that have been purchased and returned during the year, because the prospective bride said "no". Bella Ideale Diamonds, also known as BI Diamonds, has a standard 30 day return policy on all engagement rings sold on-line. If buyers are not satisfied or otherwise find themselves in a situation where the engagement ring no longer serves a purpose, they simply return it for a full refund.
"Not all engagements go as planned," says Paul Buchanan, President of BI Diamonds. "When they don't, the customer is stuck with the ring. That's not good for the customer, the jewelry industry or BI Diamonds, because we have an unhappy buyer. To give the buyer some relief from a difficult situation, we simply take back the ring, with the hope that the customer will return at a later date. It's good business, because we don't get many rings back compared to the number we sell," says Buchanan.
BI Diamonds has an expanded selection of men's and women's jewelry that includes the latest in upscale designer fashions in gold, silver and platinum. Also included is a new selection of men's alternative metal wedding bands in more affordable and durable titanium.
Bella Ideale Diamonds is a Carlsbad, CA based on-line retailer of fine jewelry at discounted prices. To provide the best in customer service, BI Diamonds' staff consists of Graduate Gemologists and graduates from the American Institute of Diamond Cutting.
Contact Paul Buchanan at 855-261-0100 (Toll Free) or at info(at)bidiamonds(dot)com. Distribution Center: 2382 Camino Vida Roble, Suite M, Carlsbad, CA 92011.
# # #