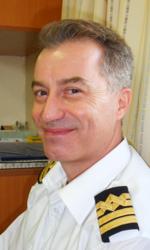 Port of Kalama, Washington (PRWEB) December 13, 2011
The Port of Kalama is honored to welcome a maiden voyage from the international ship, Storm Rider, this weekend. The 22 ton bulk carrier is loading wheat at the port for shipment to Manzanita, Mexico. The ship, which hails from Cyprus, is operated by Grecomar Shipping & Agencies and is captained by Konstantinos Pantazis.
According to Port of Kalama marketing manager, Liz Newman, the Storm Rider utilizes state-of-the-art technology for auto-navigation and a monitoring system that alerts the entire ship if there is a problem at the bridge or wheelhouse. "I was amazed to learn that the ship also runs on 8,800 horsepower – unfathomable!" says Newman.
Newman, who met the crew this week, says a draw for the international visitors to Kalama and Cowlitz County are the local Wal-Mart stores. "The crew visited the Woodland, Washington Wal-Mart this week and purchased diverse gifts for family back home. They also dined at Kalama's Columbia Inn. We are delighted to showcase our region and hope the crew returns for many more visits."
The Port of Kalama, which is located on the deep-draft Columbia River immediately adjacent to Interstate 5 and the mainline railroad, is home to some of the largest grain terminals on the west coast. Two grain terminals and a deep-draft break-bulk terminal are located on the river.
Storm Rider Ship Specifics:
CAPTAIN: KONSTANTINOS PANTAZIS
CHIEF ENG: FOTIOS GKIONIS
TOTAL CREW MEMBERS: 20
PORT REGISTRY: LIMASSOL
NATIONALITY: CYPRUS
VESSEL TYPE: BULK CARRIER
KEEL LAYING: APRIL 19, 2011
DELIVERY DAY: NOV. 11, 2011
MANAGEMENT: GRECOMAR SHIPPING & AGENCIES LTD
LENGTH OVER ALL: 180.40 METERS
BREADTH: 30.00 METERS
DEPTH: 14.40 METERS
TONNAGE GROSS: 22,413
TONNAGE NET: 11,653
DEADWEIGHT TROPICAL: 35,129
About Port of Kalama – Where Rail and Water Meet:
The Port of Kalama is located in Southwest Washington on the Columbia River and immediately off of Interstate Highway 5. The port exists to induce capital investment in an environmentally responsible manner to create jobs and to enhance public recreational opportunities. Port of Kalama's industrial area includes five miles of riverfront property adjacent to the 43' federally-maintained deep draft navigation channel of the Columbia River. The Port is served by the Burlington Northern/Santa Fe and Union Pacific railroads. There are over 20 industries located at the Port of Kalama, employing over 800 people. Port of Kalama offers all the superior facilities businesses need to thrive, and an unsurpassed quality of life. The port offers shovel ready sites, a new Industrial Park, state of the art Marine Terminals and transportation accessibility to rail and highway all just a 25 minute drive to the Portland International Airport. Port of Kalama also offers high-bandwidth communications, with dual access fiber-optic service to Seattle and Portland. Properties currently available at the port for businesses wishing to expand and thrive: http://www.showcase.com/lnewman@portofkalama.com Visit http://portofkalama.com.
CONTACT: Liz Newman, Port of Kalam, 1-360-673-2379
###