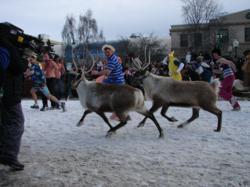 Anchorage, Alaska (PRWEB) December 13, 2011
From quirky to downright crazy, events at Anchorage Fur Rendezvous have contestants and onlookers howling with laughter. The annual celebration, known locally as Rondy, started in the 1930s as a way for hard working miners and trappers to let their hair down after a long season of labor. In the years since, Alaska's largest winter festival has added more zany events to the roster. This year's Rondy runs from February 24 to March 4, 2012. Here are four of the wackiest events:
The wildest event in the literal sense, Running of the Reindeer, is a sprint down a snowy city street pursued by a herd of reindeer. Think Pamplona and you're getting close, but in this instance the reindeer spectacle is less aggressive. In fact, participants get to pet their cloven competition prior to the race. Contestants don far-out costumes and dash the distance with the tawny team of ungulates. The event celebrates its fifth anniversary in 2012 and remains one of the highlights of the winter festival.
In frontier days, an outhouse was a necessity for life. During Rondy, it transforms into a speed machine. The extremely popular Rondy Outhouse Races pit custom-built privies against one another in a ski-borne drag race. Teams burst from the start, feet flying and skis sliding in a mad dash to be flush with the finish line. If you don't cheer their speed, you'll giggle at each outhouse name.
What do snowshoes and softball have in common? Absolutely nothing! That's why people turn out to watch and play Rondy Snowshoe Softball, the northern version of one of America's favorite pastimes. The one-pitch tournament keeps the game moving fast even though participants themselves might be a bit slower with the oversized footwear. No snowshoes? No problem, tournament organizers provide them.
Release the inner child with Rondy's team snowball fight. Yukigassen (yew-key-gah-sen) was imported from Japan for the 2011 Rondy and returns in 2012. The name is taken from the Japanese words for "snow battle," but the Rondy tourney takes on Alaska flair, with teams like Arctic Reign battling for snowball supremacy. There's nothing like a good old-fashioned snowball fight to warm up winter.
There's more fun at Rondy; for more information and a complete schedule, visit http://www.furrondy.net. Photos available upon request.
The Anchorage Convention & Visitors Bureau's mission is to attract and serve visitors to the Municipality of Anchorage. With more than 135 miles of paved trails, the nation's third largest state park, first-class amenities, and a blend of cultures found only in Alaska, Anchorage residents live a Big Wild Life™. For more information on Anchorage's larger-than-life adventures and amazing urban delights, visit http://www.Anchorage.net.
###