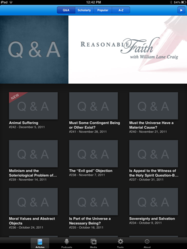 We see a tremendous hunger for good, thoughtful information about the big questions of life.
Marietta, GA (PRWEB) December 09, 2011
A new app released today promises to make discussions about religious belief even more engaging. Reasonable Faith has just released a new iPhone and iPad application, allowing users to find answers to some of the most challenging questions concerning the existence of God, the life and ministry of Jesus of Nazareth, science and theology, and a host of related topics. The app will include articles written at the scholastic and popular levels, teaching podcasts, audio discussions on current events, and videos of Dr. Craig's much lauded debates against some of the world's foremost atheists.
To download the new Reasonable Faith app, click here.
"We believe this app will be of vital service to both the believer and those who are truly seeking answers for life's most important questions," stated Dr. John Herring, president of Reasonable Faith. "We see a tremendous hunger for good, thoughtful information about the big questions of life. Here, we're able to provide a truly intelligent approach to the discussion, without all the heated rhetoric or vitriol that so commonly accompanies such conversations. Our website, iTunes, and YouTube audiences have been growing tremendously each year, and this app will provide even more convenient access to our on-line materials."
One much anticipated feature is the ability app users will have to quickly find and stream some of the more popular debates of Dr. William Lane Craig, Research Professor of Philosophy at Talbot School of Theology. Craig has debated leading atheists the world over including Anthony Flew, Lawrence Krauss, Christopher Hitchens, and Sam Harris, who described him as "the one Christian apologist who has put the fear of God into many of my fellow atheists."
Craig says of his debates, "These are academic forums, where one concentrates on the arguments and counter arguments, the truth of the premises in those arguments and objections to them, and not on personality or ad hominem attacks."
Beyond the popular content, Herring noted that the Reasonable Faith app will also house some of Dr. Craig's articles written for the professional philosopher or theologian. "As far as I know, there simply isn't anything in the marketplace that elevates the conversation about philosophy of religion and God's existence to this level. Now, the student and the scholar can have instant access to top-flight articles that would otherwise only appear in specialty academic journals. I think we're breaking new ground here."
The Reasonable Faith app is available for immediate download from the Apple app store. An Android version of the app will be released in the spring of 2012.
About Reasonable Faith
Reasonable Faith (http://www.reasonablefaith.org) features the work of philosopher and theologian Dr. William Lane Craig in order to carry out its three-fold mission of providing an articulate, intelligent voice for biblical Christianity in the public arena, challenging unbelievers with the truth of biblical Christianity, and training Christians to state and defend Christian truth claims with greater effectiveness.
William Lane Craig is Research Professor of Philosophy at Talbot School of Theology at Biola University. He holds a PhD from the University of Birmingham (England) and his D. Theol. from the University of Munich (Germany). Dr. Craig is also an international lecturer and debater. He has presented to numerous audiences in North America, Europe, Africa, and Asia and is known for his skilful communication to both scholar and student alike. He is currently the Research Professor at Talbot School of Theology in La Mirada, California. He and his wife, Jan reside in Atlanta and have two grown children.
###