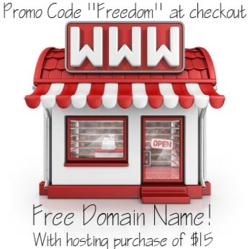 Bitronic Technologies is offering free domain name registration with a web hosting purchase now through January. Promo Code: freedom
New York, NY (PRWEB) December 09, 2011
When a company or person has a product they need to sell, they need a website. Usually during this process it is essential to buy web domain names. Bitronic Technologies is offering free domain name registration with a web hosting purchase now through January. This offer simplifies getting a website setup as it combines the two separate concepts of domain name registration, having to buy web domain names and hosting. According to Bitronic Technologies one must simply add the domain name and web hosting and use the promo code "freedom" at checkout, without the quotes. Otherwise the regular price for domain registration at Bitronic Technologies is $11.49 a year, still a very competitive price.
Here are some simple tips on how to buy a web domain with ease this holiday season.
It's better to have a domain name that is connected to ones business than to to be hosted on a free sub-domain. This is because having a dedicated domain name creates identity and image for your business. It's a also a good idea to make sure that the site and domain name will stand out from the billions of other websites on the internet.
Try to use a simple easy to remember domain name and consider using a professional service to help construct the website. Bitronic Technologies also provides web design at reasonable cost if help is required. It is especially important to have a good, simple domain name if one plans on using marketing strategies that require the audience to recall the name of a website at a later time.
The benefits of having a professional, well-constructed web page are innumerable, but one of the most important is that it creates a favorable first impression that will motivate the audience to read on. Internet audiences are a notoriously fickle lot.
Make it as easy as possible for customers and potential customers to contact the website and people in charge. If the sites audience becomes interested in the product, but doesn't know how to contact the company for sales then the web page has accomplished nothing, except maybe create sales for competitors.
When buying a web domain names, or looking for website hosting Bitronic Technologies is a great resource.
Bitronic Technologies is a Brooklyn, NY based company that provides web hosting and domain registration to clientele worldwide. Since 2007 Bitronic Technologies has consistently provided the best values in the web hosting an domain registration industries. Bitronic Technologies is a privately owned company based in the U.S.A. and is family operated. For more information on Bitronic Technologies, please call 1(347)338-0922 or visit Bitronic Technologies
# # #