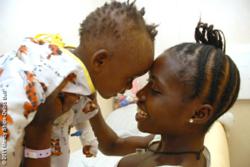 Garden Valley, Texas (PRWEB) December 12, 2011
Global partners of Mercy Ships have come together, uniting resources and support, to continue their mission of helping the world's forgotten poor. Mercy Ships' 16 national offices located in North America, Europe, Africa and Asia have secured a matching grant in which all general donations, up to $1 million, will be doubled if received by December 31, 2011.
"The success of this grant has one purpose," says Jeff Kramer, Vice President of Resource Development at Mercy Ships. "To serve more people in need through our state-of-the-art hospital ship, the Africa Mercy. I am excited that our global offices have worked together to secure this match. Because of our generous partners, more people in West Africa will receive life-saving surgeries—and that is something to celebrate this holiday season!"
Mercy Ships has been serving the forgotten poor through the use of hospital ships since 1978. A faith-based health care organization, Mercy Ships follows biblical principals in their treatment of individuals: helping the blind to see and the lame to walk.
"Our purpose in Mercy Ships is to work together in the poorest nations to help mend lives broken by disfiguring and life-threatening disease," says Chief Medical Officer, Dr. Gary Parker. "For some, life itself is at serious risk while others face ridicule and exclusion from their communities. Especially during this Christmas season, we invite you to join with us. Working together, we can help take away the pain. Lives will be changed; hope will become reality."
An example would be Alusine Kamara, who lost his job and his family after a large tumor began to grow on his chin. "I was left all alone," says Kamara. "I couldn't go places and do business. I lost all my contacts. I spent all my savings, sold my car, sold my land."
But a taxi driver told him about Mercy Ships—a ship where they perform surgeries. With help from friends, Kamara was able to get the money to travel to the ship. When he arrived, he was amazed at the services he received free-of-charge: a medical exam, x-rays, and surgery. Since then, his life has turned around completely.
"I don't have enough words to describe this organization. This whole ship is full of all kinds of sicknesses, and [the doctors and nurses] are treating us for free. I would like to tell people: if they really want to use their money for a good use, let them support this organization. They are helping. They are really helping. They are saving lives."
Mercy Ships hospital ship, the Africa Mercy, has been docked in Sierra Leone, West Africa for the past 10 months. Alusine Kamara is just one recipient of the 3,083 surgeries that have been completed this year in Sierra Leone by Mercy Ships volunteer medical staff. Surgeries include cleft lip and palate repair, orthopedics, ophthalmologic, and tumor removal, among others.
In January 2012, the Africa Mercy will dock in the port of Lomé, Togo to serve the people of Togo for a six month Field Service. The latter part of 2012 the ship will be serving in the nation of Guinea.
"The holidays are a time when we reflect on our blessings and give to those less fortunate," says Kramer. "This year at Mercy Ships we are able to match incoming funds dollar for dollar. This will help us reach that next person in line, and give them the best Christmas gift of all: the gift of life."
ABOUT MERCY SHIPS: Mercy Ships uses hospital ships to deliver free, world-class health care services, capacity building and sustainable development to those without access in the developing world. Founded in 1978 by Don and Deyon Stephens, Mercy Ships has worked in more than 70 countries providing services valued at more than $834 million, impacting more than 2.9 million direct beneficiaries. Each year Mercy Ships has more than 1,200 volunteers from over 40 nations. Professionals including surgeons, dentists, nurses, health care trainers, teachers, cooks, seamen, engineers, and agriculturalists donate their time and skills to the effort. Mercy Ships seeks to become the face of love in action, bringing hope and healing to the poor. For more information click on http://www.mercyships.org
Contact Information
US Public Relations
us(dot)media(at)mercyships(dot)org
903.939.7017
Hi-res photos and general Mercy Ships video footage are available upon request.
###