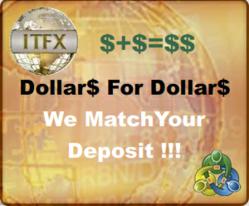 Forex Ecn - The Wave Of The Future
Hong Kong (PRWEB) December 12, 2011
The hopes of scores of Forex trading market participants were dashed with the European Central Bank not demonstrating any willingness to offer more support for the economy of the EU. Experts at the FX trading company IFTX report that though Europe's central bank announced that it would try and adopt further non-standard measures and even lowered the main interest rate to 1 percent by 25 basis points, Forex traders were an unhappy lot with ECB's decision of the European government bearing the burden of rescuing the debt ridden Euro Zone entirely on their own.
This disappointment translated into a poor show in the markets with most commodities reporting a slump and even the Canadian Dollar dipped after ECB's disappointing announcement at the press conference after the monetary policy meeting. This decision would greatly affect Canada whose exports largely comprise of raw material and its economy is a commodity driven one. The price of its main export, crude oil slumped to its lowest price since Novemeber 28 to CAD 98.34. USD/CAD reported the lowest price of 1.0225 since November 1 while EUR/CAD fell to 1.3476, the lowest price in the last three months.
The price of its main export, crude oil slumped to its lowest price since November 28 to CAD 98.34 a barrel
The online Forex trading company InvestTechFX is a proven leader in the industry of artificial intelligence software. They are renowned for their top notch Forex currency exchange technology systems in the computerized trading industry whose experts develop advanced, customizable, intuitive, efficient, and sophisticated trading tools that help people understand online Forex related trends and developments. Apart from offering new, exciting, and innovative Forex ECN trading solutions, they are well known for their detailed and comprehensive learning center.
###