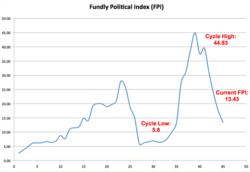 Washington, DC (PRWEB) December 09, 2011
Fundly (http://www.fundly.com), the largest, easiest to use and most widely-adopted social fundraising platform for political campaign fundraising, today announced the launch of the "Fundly Political Index" (FPI) – the first-ever index that measures the velocity of "social fundraising" activity across the social web during the 2012 campaign cycle.
"The 2012 election cycle will be the most 'social' in history – with the largest number of candidates leveraging social media to amplify their fundraising," noted Dave Boyce, Fundly CEO. "With social fundraising rapidly becoming the defacto standard for political fundraising, the Fundly Political Index will track the aggregate trend of political organizations and candidates leveraging the social web to raise funds and engage supporters."
The Fundly Political Index began tracking on January 1, 2011 and will monitor and analyze social fundraising velocity through the end of the 2012 election cycle.
As of December 6, 2011, the Fundly Political Index was at 13.43, representing a 13-fold increase in social fundraising velocity since the beginning of 2011, with signs that it is likely to increase dramatically from there.
At its peak in this election cycle so far, the Fundly Political Index has been as high as 44.93 – marking a 44-fold increase in social fundraising velocity – leading up to the close of the third quarter.
During some of the down periods over summer 2011, social fundraising velocity reached a low point of 5.8.
Fundly has routinely seen extraordinary spikes in fundraising, usually at the end of campaign fundraising reporting periods, accompanied by spikes in Twitter and Facebook traffic designed to promote a particular fundraising push.
For example, near the end of the Q3 reporting period (September 2011), Fundly saw a surge in aggregate social fundraising activity, with several days of fundraising totals hitting $300K and a number of days surpassing $500K totals across the social web.
Social fundraising has become a critical strategy for 2012 candidates, with social media-powered campaigns making it easier than ever to execute strategies like money bombs and short-term fundraising pushes that dramatically increase the amount of money candidates collect in small donations and the speed with which they collect them.
In the 2010 election cycle, high profile candidates ranging from Barbara Boxer (D, CA) to Meg Whitman (R, CA) used Fundly's platform to enable supporters to raise money for their campaigns through their social networks on Facebook and Twitter. For every 100 donations to Senator Boxer's campaign that came through Fundly, those donations generated an additional 18,000 Facebook impressions and an additional 52 donations from new supporters.
In the 2012 cycle, hundreds of candidates on both sides of the aisle, including three U.S. Presidential candidates, are currently using Fundly as their online fundraising platform.
Fundly also expanded its political team this week, announcing two new political hires – Kathleen Daughety, who previously served as deputy finance director for the Democratic Governors Association and finance director for Senator Michael Bennet (D, CO) and deputy finance director for Governor Jay Nixon (D, MO) and Governor Kathleen Sebelius (D, KS); and David Hurst, president of the Young Republicans of New Hampshire who has formerly served as political director for the Governor Craig Benson (R, NH) and Jim Bender for Senate (R, NH) campaigns and as Executive Director of the Manchester Republican Committee.
More about Fundly is at http://fundly.com/
About Fundly
Leading the charge to transform political fundraising as we know it is Fundly, the largest, easiest to use and most-successful social fundraising platform, that:

Is processing from $50K to $500K each day for political candidates on both sides of the aisle, at all levels of government.
Enables users to get their online social fundraising campaigns up and running in as little as five minutes.
Won "Best New Facebook Application" at the 2011 Pollie Awards for its success with Barbara Boxer's 2010 campaign.
Is currently being used by three Presidential candidates
Recently secured a $8.2 million round of funding from the same VCs who backed Twitter, Facebook, LinkedIn, Zynga, and Apple.
# # #