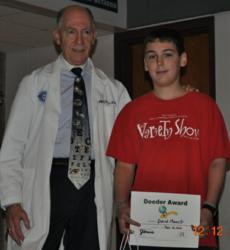 It has been said that the eyes are the windows to the soul - WE DO WINDOWS!
Hamden, CT (PRWEB) December 16, 2011
Dr. Jeffrey D. Gold, a Hamden, CT ophthalmologist presented David Mann, Jr., a 13 year-old 8th grader at the East Hampton Middle School, with a brand new Apple iPod in front of the whole school preceding a school play on Bullying and Anti-Bullying at 9:30 AM Monday December 12, 2011.
Dr. Gold, in co-operation with DoctorRelation.com has realized the importance of inspiring our youngsters to make the right choices in life and to reward them for these right choices.
"Doing good deeds - defined as deeds which benefit others rather than the individual doing the deed - is a step in the right direction: the kind of step which has built this country and even this world," says Dr. Gold.
David Mann, Jr., is the winner who was awarded an Apple iPod for doing a good deed. David has known two special needs children in his school, one since first grade and the other since fifth grade. These two kids were ostracized early on, but David not only befriended them, he helped them with school work that he understood but they did not. This school year, the two special needs boys no longer sit alone in the cafeteria. David helped integrate them into his lunch group, claiming, "It makes me feel awesome to know that I made a difference in their lives by helping them in class."
Dr. Gold and Principal Ms. Nancy Briere thanked David for his enormously beneficial effort via his self-created actions. They feel that rewarding his actions will motivate him to contribute more to his community and will stimulate other kids to do good deeds as well.
"I was kind of nervous with the whole school watching. Afterwards, I was pretty happy though. I love the ipod and I will use it for skiing and biking," stated David.
David's Mom said, "This is a nice way to recognize a student for doing the right thing." His Dad added, "I am proud of David and happy to know he is a good person and helpful to others."
Ms. Briere added, "East Hampton Middle School is very proud of David Mann Jr. He represents the best part of our community by displaying respect, kindness and compassion towards his fellow students. His actions go a long way to promote a safe school climate for all of us."
Dr. Jeffrey Gold is a board certified and award winning Ophthalmologist who has been changing the lives of patients for over 30 years. At his office, he performs a variety of custom and standard laser vision correction procedures including LASIK, PRK and Epi-LASIK (Advanced Surface Ablation). He has performed more than 10,000 LASIK procedures and over 1,000 PRK and Epi-LASIK procedures while receiving many awards for his work. Choosing a doctor as experienced and recognized as Dr. Gold is critical to your effort in getting the desired and needed treatments for your eyes.
Dr. Gold's Liberty Vision is the most sought after and premier laser vision correction center in the Hamden area. Patients who visit Liberty Vision are taken care of personally by Dr. Gold, who will conduct the screenings, pre-operative exams and all post-op exams. With his expertise, experience and help, you will no longer be dependent on glasses or contact lenses.
As the one time part owner of the country's second laser eye surgery center and being instrumental in developing the Yale Eye Laser Center, Dr. Gold has over 10,000 laser vision correction procedures under his belt. As a result, he has changed the lives of thousands of patients, including his own family members, other doctors and healthcare professionals.
Dr. Gold as well as other participating doctors across the country will continue this contest with further prize giving. Individuals interested in participating can enroll online at http://www.ophthalmologisthamdenct.com under the DO A GOOD DEED section or can contact Dr. Gold at 2440 Whitney Ave., Hamden, CT 06518, 203-281-5745, drgold(at)laserbody(dot)com.
Next prize-giving date March 1, 2012
###