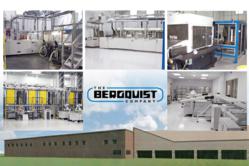 The new manufacturing line is capable of producing up to one million Thermal Clad panels annually.
Chanhassen, MN (PRWEB) December 12, 2011
The Bergquist Company is pleased to announce the expansion of its Prescott, Wisconsin Thermal Substrates operation. Groundbreaking for the 30,000 square foot expansion took place on October 15, 2010. Equipment has been purchased and installed for a second Thermal Clad® manufacturing line, which will produce the entire line of thermally conductive dielectric metal core PCB panels. In addition, an adjacent facility has been purchased, and the buildings have been connected, resulting in a facility of just under 100,000 square feet in Prescott.
The new manufacturing line is capable of producing up to one million Thermal Clad panels annually. It features enhanced capacity, cleanliness and control, and uses state-of-the-art equipment, automation and technology to produce the high reliability line of Thermal Clad materials. The new line uses 70% less water and emits 80% less VOC's to the environment.
Thermal Clad is the world's leading line of thermally conductive circuit materials for printed circuit fabrication. Used in LED lighting, power conversion, motor controls, automotive steering, lighting, battery management, and many other applications, Thermal Clad dielectrics are available globally through Bergquist's extensive network of agents and distributors. Thermal Clad is the brand of choice to assure the highest level of system reliability for its customers and end users. Thermal Clad dielectrics are supported by a strong team of materials engineers and scientists, and tested in a UL-certified world-class reliability laboratory.
Bergquist Thermal Products is the world leader in the production of Thermal Interface Materials (TIM) and thermally enhanced Metal Core Printed Circuit Boards (MCPCB).
Production of MCPCBs from the new facility began on October 15, 2011. For further information please contact your sales representative or the factory directly at 1-800-347-4572 or 1-952-835-2322.
###