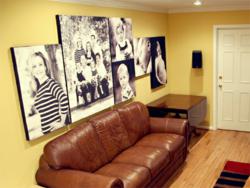 Acoustical Solutions received orders for AcoustiArt even before the official launch of the product...
Richmond, VA (PRWEB) December 12, 2011
Acoustical Solutions, Inc., a leading supplier of soundproofing and noise control products, announces today that it has the ability to add high quality prints of photos and artwork to many of its acoustical panels. Called AcoustiArt, details and photos of these decorative panels are now available on the company's website, http://www.AcousticalSolutions.com.
Acoustical panels are not always considered visually stunning and are usually designed to blend into their surroundings. For years the only way to change the look of acoustical wall panels has been to add some form of solid-colored fabric. Now, though, Acoustical Solutions takes another step to allow the addition of art to an order. The decorative AcoustiArt Panels give customers the option of adding high-quality designs and photos to their acoustical treatment and can be made in any size ranging up to a 4'x10' panel. Far from blending in, these panels make a room pop. AcoustiArt is a custom product that ASI helps clients design themselves using their own photos or graphics, or royalty free images found at sites like http://www.istockphoto.com, or http://www.bigstockphoto.com.
One of the challenges of developing a product like AcoustiArt is that it must not only look great, but be able to perform as well as traditional acoustical treatments. The ink used to print AcoustiArt had to be acoustically transparent to allow sound waves to pass through to the absorptive components of the panel. Aided by various printing companies around the country, Acoustical Solutions secured this acoustically transparent ink for its fabric-wrapped panels.
Acoustical Solutions received orders for AcoustiArt even before the official launch of the product as their ability to make the decorative panels spread by word of mouth. AcoustiArt has already been created for hospitals, family multimedia rooms, showrooms, government agencies, and educational facilities such as the MathScience Innovation Center, with excellent results.
Since AcoustiArt Sound Absorbing Panels are available in such a wide variety of sizes and prints, customers must call to order, and will be walked through the process of choosing the design for their noise control solution.
About Acoustical Solutions, Inc.:
Since 1989 Acoustical Solutions, Inc. has provided the detailed expertise needed to serve the noise control community.
Acoustical Solutions, Inc. works with a wide variety of customers from commercial and residential development to worship facilities, recording studios and home theater designers. Acoustical Solutions, Inc. offers the industry's most comprehensive selection of noise control and soundproofing products, including a full line of indoor and outdoor industrial, commercial, environmental and architectural noise control products.
For more information please visit http://www.AcousticalSolutions.com, call 1-800-782-5742, or see our media kit.
###