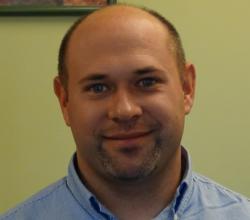 He has integrity and is personable and knowledgeable, these are very important qualities we need on our leadership team
Waukesha, WI (PRWEB) December 13, 2011
According to the U.S. Bureau of Labor Statistics, "Wisconsin was the leading state for manufacturing employment last month at 15.6%." As the number of manufacturing jobs continue to rise in Wisconsin, Rentapen Inc. is actively contributing to that workforce.
Rentapen Inc. a 3D design services and tooling company that is located in Waukesha, WI is pleased to welcome to Blake Peterson. Peterson is joining the team as the new Design Engineering Manager. Besides guiding the engineering team, Peterson will work with the Leadership team to expand the RAPid Tooling Components(TM) product line, and increase the customers using Rentapen's Just-in-Time Laser Cutting Services(TM).
"With his extensive background and education he will be a perfect fit for Rentapen," said Susan Straley President at Rentapen Inc.
"He has integrity and is personable and knowledgeable, these are very important qualities we need on our leadership team," said Straley.
Peterson earned his certificates in Expanding Skills for Engineering in Transition Management, Successful Execution and Control of Engineering Projects, and Principles of Engineering Project Management. All the certificates were earned at the College of Engineering and Development of Engineering.
Peterson is currently working on his Bachelor's degree in Science, majoring in Business Management. "He is already exemplifying what we strive for in our culture at Rentapen, continually learning and improving," said Straley.
Peterson will be managing Rentapen's team of design engineers as they help manufacturers reduce costs through excellence in machine design. Rentapen's design team continues to serve customers by specializing in jig and weld fixture design utilizing Pro/E and Solidworks.
.
As extension of Rentapen's mission to help manufacturer's reduce costs, Rentapen developed and manufactures a line of components that are used to drastically reduce the cost of weld fixtures. Peterson will be guiding the line expansion to satisfy customers' needs.
###