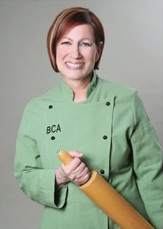 My mission is to fight hopelessness in America by teaching cake baking
Los Angeles California (PRWEB) December 14, 2011
It all started when Susan was only six years old. One of her earliest memories inspires her philosophy to this day. She recalls the day an aunt praised her first batch of cookies, "I will never forget how proud it made me feel. The realization of what a powerful effect such encouragement can have on others has always guided and inspired me."
Since then, Chef Susan has become a leading authority in her field: The teaching of cake baking and decorating, and her passion for her art shows in her teaching career that spans three decades. She has faith that she can fulfill her dream to "Bake America Stronger," having seen firsthand how mastering the craft of baking and cake decorating had a powerful impact on her students' self- esteem and self-worth. Her vision is to spread that sense of empowerment and renewed hope all across the country.
Chef Susan says, "The fact is, whether you're doing the baking or you receive a loaf of bread or a pie that someone took the time to make for you, baking makes people happy. And that kind of joy spreads like wildfire, especially at times like these, when the country is hurting."
Here's how you one can pitch in to "Bake America Stronger" this holiday season:

Hold a family baking night, and then give away your delicious treats as holiday gifts.
Give the gift of baking to a friend – one of the Baking & Cake Art Academy's classes taught in Los Angeles, or a cake decorating class on DVD, or a membership to the Baking and Cake Art Academy is the perfect gift for anyone who likes to bake or is looking for a fun and inexpensive way to spend time with their family.
Use what is learned from Chef Susan about creating beautiful cakes, cookies and pies to raise money when organizing a bake sale for a favorite community organization.
Whether aiming to bake the perfect apple pie for the holidays, or to refine one's cake decorating skills so it can be used to make money, the Baking and Cake Art Academy is the perfect place to start!
About Baking & Cake Art Academy
Baking & Cake Art Academy, Inc. is based in Los Angeles. Through fun and informative online and live classes, the company fulfills its mission by inspiring baking and cake art enthusiasts from the amateur to professional levels to achieve their highest goals. For more information about founder Chef Susan Holtz and Baking & Cake Art Academy, visit http://www.bakingandcakeart.com.
# # #