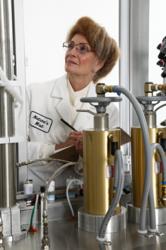 Grants Pass, OR (PRWEB) December 12, 2011
Sharon Kleyne, American woman entrepreneur, water advocate and Founder of Bio-Logic Aqua Research, is announcing a new category in the global business of water. This comes after two decades of research into the effects of humidity, pollution, fresh water and climate change on health and mortality. She projects that her new "breath of life" business of water will achieve global distribution and save many lives.
Sharon Kleyne is host of the Sharon Kleyne Hour Power of Water globally syndicated radio talk show on Voice America, World Talk Radio, Green Talk Network and Apple iTunes.
Mrs. Kleyne founded Bio-Logic Aqua Research two decades ago, out of concern for the effects on health and mortality of water shortages, pollution and increasingly dry air. She challenged her company to develop an all-natural, fresh water, hand-held personal humidifying device for dry skin and dry eyes, to supplement moisture lost to dry air and pollution. She knew that such a device could become indispensable in the growing global crisis in dry air, fresh water and pollution that is causing dehydration diseases and increased mortality worldwide
Mrs. Kleyne's breakthrough research into water absorption by skin and eyes and the technology of mist application, have met that challenge. Bio-Logic Aqua Research is the only company, worldwide, whose exclusive business is all-water personal humidity supplements for eyes and skin. Mrs. Kleyne's research led to a United States patent on the application of a pure mist to humidify dry eyes and a dry tear film.
"That the air is losing its life-giving clean water, called humidity," says Mrs. Kleyne, "and it is reported that a one degree rise in the annual temperature increases the US mortality rate by 34,000 a year. Every individual is affected differently but education about how to live in the air we breathe is critical to saving health and lives. Much research is still required."
Dry air, Mrs. Kleyne discovered, causes numerous dehydration diseases such as dry skin, dry eyes, allergies and melanoma. Dry eye is now the #1 reason for United States eye doctor visits. In countries with extreme air pollution, dry air and water shortages, dry eye and other dehydration diseases constitute a major health and mortality crisis.
"My company's personal hand-held water misting devices," Mrs. Kleyne notes, "empower every individual, anywhere in the world, to provide their own instant humidity for dry skin and dry eyes, regardless of how dry or polluted the air."
"Earth will always continue to change," says Mrs. Kleyne, "and for life to survive, we must learn to adapt long-term and live with those changes. In the current global environment, it is realistic to predict that my company's personal water mist products will one day be as indispensable as drinking water, clothing, sunscreen and lip balm."
As host of the Sharon Kleyne Hour Power of Water syndicated radio talk show (Mondays, 10 a.m., PST/PDT), Sharon Kleyne discusses all aspects of water, health and environment with hundreds of world renowned experts. The show is heard on Voice America, World Talk Radio, Green Talk Network and Apple iTunes. Go to http://www.SharonKleyneHour.com for written summaries and on-demand replays. Also visit http://www.naturestears.com, whatistheeye.wordpress.com, "Nature's Tears EyeMist" on Facebook and "Bio-Logic Aqua" on Twitter.
Sharon Kleyne Hour Power of Water is sponsored by the Education Division of Mrs. Kleyne's company, Bio-Logic Aqua Research, which produces the products Nature's Tears® EyeMist®, Bio Med Wash® skin and eye first aid wash, and Nature's Mist® Face of the Water® for dry skin
© 2011 Bio-Logic Aqua Research
###