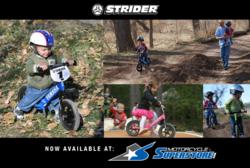 Strider bikes from Motorcycle-Superstore.com are the perfect way for parents to introduce their kids to riding, and hopefully keep them sharing the family hobby for a long time to come.
Medford, OR (PRWEB) December 10, 2011
Just in time for the holidays, Motorcycle-Superstore.com is now selling the revolutionary Strider no-pedal balance bike for kids. Strider Sports running bikes are a new advancement in the world of training bikes and offer an easy way for children to learn the balance necessary to confidently ride on two wheels.
"As Motorcycle Superstore's Purchasing Manager, I am always looking for great products, and in the motorcycle industry, we go to races all year and have seen the Strider bike at several of these events," said Dave Osborne of Motorcycle-Superstore.com. "When we saw how much fun the kids were having on the Striders, and saw the same excitement coming from parents after seeing their kids ride, we knew we needed to make this product available at our store. Motorcyclists pass their love of riding down to their kids, and that passion is passed down through the generations. These Strider bikes are the perfect way for parents to introduce their kids to riding, and hopefully keep them sharing the family hobby for a long time to come."
The simplicity of the Strider's design and its ease of operation allow children to learn how to ride as soon as they can walk, and to begin understanding the dynamics of riding and steering a bike right away. Strider Sports' balance bikes have gained almost immediate popularity, and have recently earned the distinction of becoming the official pre-bike of the National Bicycle League (NBL), with Strider children's racing events springing up across the country.
With six colors to choose from, including Yamaha blue, KTM orange and Honda red, as well as a full line of accessories available, kids and parents can team up to create a custom one-of-a-kind Strider setup. Motorcycle-Superstore.com is offering these Strider running bikes at a discounted price of $99.00 (MSRP $110.00) in six basic color options, with KTM or Monster Jam graphics for $109.00 (MSRP $121.11), or with Honda or Nitro Circus Graphics and number plate for $119.00 (MSRP $132.22). Check out Motorcycle-Superstore.com's entire selection of Strider no-pedal balance bikes at http://www.motorcycle-superstore.com/2/9/387/1/0/886/DEPARTMENT/Strider-Dirt-Bike-Motocross-Fan-Zone-Accessories.aspx.
About Motorcycle-Superstore.com:
Motorcycle-Superstore.com is the leading online retailer in the motorcycle and powersports industry. Serving motorcycle riders for over 12 years, Motorcycle-Superstore.com specializes in selling motorcycle and powersports helmets, riding apparel, accessories and parts at the lowest prices possible. Internet Retailer magazine has ranked Motorcycle Superstore in the top 10 of all sporting goods sites and in the top 200 of all e-commerce sites. Powered by a dedicated staff of motorcycle enthusiasts, Motorcycle-Superstore.com continues to impress customers by constantly raising its online shopping standards. Visit http://www.motorcycle-superstore.com.
###