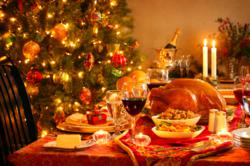 Enjoy the holiday festivities without sabotaging the healthy lifestyle you've worked so hard for.
San Francisco, CA (PRWEB) December 14, 2011
PMS Comfort (http://www.pmscomfort.com) and Dr. Daniel Heller want you to enjoy the holidays and festivities without sabotaging the healthy lifestyle you've worked so hard for. With effective planning and this powerful nutritional wisdom, you'll be able to celebrate with family and friends without a "holiday hangover" and without putting on several extra pounds you'll only regret on January 2nd.
Holiday festivities are a time to celebrate with family and friends and enjoy the spirit of the season. But how do you maintain a healthy diet while still being part of the fun?
1. Stop as soon as you're full. Regardless of what you eat, as long as you don't overeat you'll be much better off. It's inevitable that at this time of year, some dishes and treats will be so tempting that you just won't be able to stick to your diet, so don't waste your energy on trying to maintain perfection. Instead, enjoy, but in moderation. A good trick to help with this is to partner with your spouse or friend and ask them to help remind you to not go back for seconds.
2. Don't mix indulgence in both food and alcohol. This is because alcohol lowers your inhibitions, and makes it easier to overeat, and eat too much of the wrong things. Try to decide which indulgence you're going to allow yourself ahead of time, and stick to that one. Mixing sweets and alcohol is particularly hard on your body, so you'll be happy you held back.
3. Eat before you go. Fill up beforehand with a hearty, healthy snack or half a meal. You won't offend your host because you'll still have room for some of the homemade delicacies you'll be offered, but hunger is not your friend when you're trying to maintain moderation.
4. The only problem eating solves is hunger, so don't stress eat. Sometimes, this stress is actually caused by the very events at which the tempting food will be served: family gatherings and high pressure company parties, for instance. But "stuffing" stressful feelings by "stuffing" food only hurts yourself. It would be better to take a deep breath, try to find someone to talk to, or take a short walk, and don't let your emotions lead you to layer on the pounds.
5. If a dietary indiscretion breaks your diet, don't give up hope. Healthy eating isn't an all or nothing game. Too often, people throw up their hands after one dietary lapse, as if all is lost and their efforts are a complete failure. Nothing could be further from the truth. If you go off course, start again at the next meal, or the following day. If you go off course again that second day, or the next meal, start again. Repeat as necessary.
6. Drink plenty of water. This is general advice for throughout the holiday season, as well as when you're at events where temptation beckons. It helps you feel full; it counteracts the diuretic effect of alcohol; and by keeping you hydrated, it helps your immune system working at peak efficiency.
7. When you're in control, eat right. You may overeat or drink too much during the holidays, and once you've done it the best thing to do about it is – nothing. Forget it, and move on. Hopefully, you enjoyed it, and regret doesn't help. But, when you are preparing food for yourself, or ordering off a restaurant menu, feed yourself right. That is the best way to make up for holiday temptations and indiscretions.
These seven tips aren't extreme, because the idea isn't to have a perfect diet over the holidays. But you can tips the scales towards making healthy choices, and every little bit helps.
About: PMS Comfort is an online health organization dedicated to educating and empowering women on the subject of PMS and PMDD, as well as to providing natural alternatives for the relief of premenstrual symptoms. Dr. Daniel Heller is the founder of PMS Comfort.
###