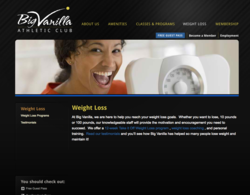 Arnold, MD (PRWEB) December 13, 2011
Big Vanilla Athletic Club, located at 1209 Ritchie Highway in Arnold, Maryland, has recently added Ginny Kay Mirenzi, MS, RD, LDN, CDE, HFS to its team of health and fitness experts. Ginny is a Registered Dietitian with the American Dietetic Association, a Certified Diabetes Educator with the National Certification of the Board of Diabetes Educators, a Licensed Dietitian and Nutritionist with the State of Maryland and a Health Fitness Specialist with the American College of Sports Medicine. She has over 20 years of experience in nutrition education including working in a private practice, outpatient clinics, hospitals and diabetes centers. Ginny can help people at Big Vanilla Athletic Club with nutrition challenges by bringing her expertise in weight management, diabetes, cardiac rehabilitation and prevention. Ginny lives in Arnold, Maryland with her husband and three children.
Big Vanilla Athletic Club's Nutritional Consulting Program
Ginny's services at Big Vanilla Athletic Club will include one-on-one and small group nutritional consulting to develop plans to meet personal health goals which may include weight loss, diabetes control, disease prevention and/or management of a current health condition. Ginny will also be available for grocery store tours where clients can walk the aisles of their favorite grocery store with Ginny to explore label reading and discuss shopping and cooking strategies. Big Vanilla's nutritional consulting services will be available to both members and non-members.
About Big Vanilla Athletic Club
Big Vanilla Athletic Club has been Anne Arundel County's community fitness center for over 30 years with locations in Severna Park/Arnold and Pasadena, Maryland. In addition to their new nutritional consulting program, Big Vanilla offers a full line-up of group exercise classes, the latest in cardio equipment, aquatic programs, rock climbing, tennis, personal training and kid's fitness programs.
For more information, please visit the Big Vanilla Athletic Club's website or follow them on Facebook.
###