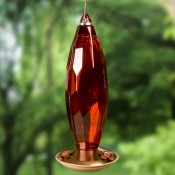 Clarence, New York (PRWEB) December 11, 2011
USABirdSupply.com announces December Cyber Deals with up to 15% off everything which makes it the ideal on-line superstore for bird feeder gifts, bird house gifts and beautiful glass bird bath gifts. Plus, free shipping on orders over $75.
With only 9 days to Hanukkah, 13 days to Christmas and 14 days to Kwanzaa, now is the time to go online and order amazing gifts that are attractive and unique.
USABirdsupply.com gift suggestions include copper products which always make a great impression:
1. Ocean Blue Copper & Glass Garden Stake ($26.99 Cyber Deal) – Fashioned by award winning designers, each one is individually hand crafted. Copper and glass with copper stake. There are 17 designs with varying colors, copper stakes (20- 40 inches) and price ranges.
2. Woodlink Brushed Copper & Ruby Glass Hummingbird Feeder ($22.04 Cyber Deal) – Beautiful brushed copper and glass with 16 oz nectar capacity, it is also easy to fill and clean.
3. Woodlink Brushed Copper Lantern Feeder ($71.99 Cyber Deal) – Designed to resemble a hurricane lantern, the curved glass seed reservoir holds 4 ¾ lbs of seed.
4. Squirrel Lunch Box Feeder with Copper ($25.19 Cyber Deal) – If you can't beat the squirrels, feed the squirrels. Fun to watch as they try to figure out how to lift the lid. Copper and natural cedar and holds 2 quarts of seed, peanuts or corn.
5. Woodlink Brushed Copper Oriole Feeder ($37.79 Cyber Deal) – Elegant copper umbrella oriole feeder with two dishes for fruit or jelly and two spikes for orange halves.
6. Double Leaf Copper Suet Basket ($13.50 Cyber Deal) – Heath Double Leaf Suet Feeder is perfect for two suet cakes and includes a hanging chain.
7. Woodlink Copper & Jewel Cut Hummingbird Feeder ($35.09 Cyber Deal) – Ruby faceted glass catches sunlight and the base unscrews for easy cleaning and refilling.
8. Finches Favorite – 3 Tube Copper Feeder ($35.99 Cyber Deal) – Capable of feeding 24 goldfinches simultaneously.
USABirdSupply.com is Located in Clarence, NY Outside Buffalo And Offers Over 1100 Bird Products Including Squirrel Proof Feeders, Hummingbird Feeders, Purple Martin Houses & Gourds, Bird Feeders, Bird Houses, Bird Baths, Garden Art, Bat & Owl Houses, Garden Flags, Butterfly Feeders, Live Mason Bees, and Honey Bee Supplies.
###