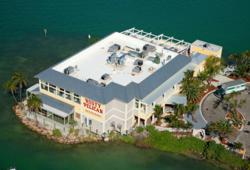 Coral Gables, FL (PRWEB) December 12, 2011
Working on a very tight time schedule, South Florida-based general contracting firm, U.S. Construction Corp. (USCC) has completed the interior, exterior remodeling, and site improvements of one of South Florida's most well-known, iconic landmark restaurants. A local institution for over 40 years, The Rusty Pelican is a mainstay for great food, incredible views and the perfect venue for any event.
From the newly redesigned exterior façade, valet drive-up and entryway, to the indoor and outdoor waterfront dining areas, either downstairs at the water's edge or on the new upstairs dining terrace, the Rusty Pelican will amaze visitors with incredible vistas of Biscayne Bay, The Port of Miami, and Downtown Miami. The dining rooms and special event facilities have been completely transformed and can accommodate everyone from corporate functions to weddings with a capacity of up to 1300 guests.
Jim McKennon, Chief Operating Officer of Specialty Restaurants Corporation (the owner and operator of the Rusty Pelican), is extremely pleased with the project's success. "U.S. Construction Corp. did an incredible job on the construction and management of this very challenging and complex project. Our short schedule and complete redesign required bringing a lot of trades and specialties together in a very condensed timeframe; we couldn't have pulled off this project without the strong commitment of U.S. Construction Corp. and their dedicated team."
The construction team overseen by Rafael Reyes, President and CEO of U.S. Construction Corp., completed the $9 million, 32,000 square foot facility on 2 acres of prime bayfront property in record time. "We have earned a great reputation in the restaurant, retail, entertainment and hospitality industries for getting projects completed on-time, and our client list keeps growing!", said Reyes. "Our extensive fast-track construction experience has enabled us to deliver the most complex projects in the shortest time possible while maintaining the highest quality workmanship".
From their Coral Gables headquarters, South Florida-based U.S. Construction Corp. is currently working on multiple exciting projects including a brand new market and bakery at Fisher Island—a world-class private island residential community off Miami Beach, Florida. Recent U.S. Construction Corp. projects include T.G.I. Friday's, Lord & Taylor, Benihana, Capital Bank, The Counter Burger, Sharp, Outback Steakhouse, Carrabba's Italian Grill, Bacardi, Wendy's, Clubhouse One, Rockefeller Group, University of Miami, and Hard Rock Café.
U.S. Construction Corp. (USCC), founded in 1977, is a highly regarded, nationally recognized general contracting firm. The South Florida-based company has built more than 1,000 projects over the course of its 35-year history. Their highly skilled project management, supervision, craftsmanship and safety record consistently earns USCC repeat commercial construction business industry-wide including, restaurants, retail, entertainment, hospitality, offices, spas and clubs. For more information on U.S. Construction Corp., please call 305.443.5808 or go to http://www.usconstructioncorp.com.
# # #