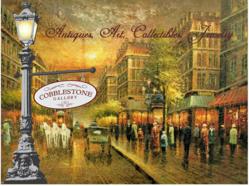 Any informed borrower is simply less vulnerable to fraud and abuse.
-- Alan Greenspan
San Francisco, CA (PRWEB) December 11, 2011
Owner of Cobblestone Gallery, David Flores says, "Buying anything online can be challenging. It can be even more of a challenge when antiques and collectibles or premium jewelry are concerned.
"Often an online buyer is unsure of the quality of the item or its authenticity," said Flores. "We are a PayPal preferred site and using PayPal makes incredible sense. Buyers can feel confident that they are dealing with a trustworthy merchant, since their qualified purchase is backed by 'PayPal Buyer Protection.'"
Flores further adds that their site is encrypted using state of the art technology to protect their customers from identity theft while ordering on the Cobblestone Gallery website.
Practicing a safe online experience from Cobblestone Gallery: The best way to prevent being a victim of online fraud is by using common sense. If an offer sounds too good to be true, generally it is. Also, be cautious of providing any personal identification data online. Legitimate companies will not randomly ask for information from clients. If you have a doubt about an e-mail you received from a company, give them a call to confirm that it is legitimate. And, if you are transmitting personal information online, make sure that it is a secure connection. These are simple tips, but they will help keep your personal financial information safe and secure.
Please visit Cobblestone Gallery at: http://www.cobblestonegallery.com
Your online shopping place for Antiques, Art, Collectibles, Jewelry.
# # #