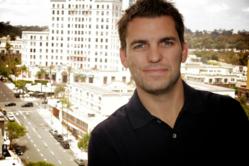 San Diego, CA –
December 12, 2011 (PRWEB) December 12, 2011 -- Underground Elephant, the premier global performance-based marketing technology company, announced today that CEO Jason Kulpa has been named by the San Diego Business Journal as a finalist in their Most Admired CEO Awards. This is Jason's third consecutive year being recognized for this award.
The San Diego Business Journal's Most Admired CEO Awards recognizes San Diego's most dynamic business leaders and entrepreneurs for their achievements and contributions to the local business community. Winners are determined by an independent panel of judges based on an array of factors, including leadership, values, vision, company's financial performance, commitment to quality and diversity, work environment, community contributions, innovation and overcoming adversity. Kulpa was honored along with other outstanding CEOs at the event on December 8, 2011 at the Paradise Point Resort and Spa in San Diego.
Accepting this recognition, Kulpa acknowledged his team's continued dedication as paramount to the company's success and stated, "Winning this award is a testament to our exemplary senior management team and is a direct reflection of each and every person who has been a stakeholder and believer in the company's continued success. The Underground Elephant team has been a driver and motivator for me and I am extremely proud of the milestones we have reached over the last three years."
The marketing technology company has seen impressive growth under Jason's lead, going from 20 full-time employees in 2009 to over 60 employees today. Furthermore, the company has grown revenues over 3,000% since its 2008 inception, with over 300% growth over the last two years, deeming it the Fastest Growing Private Company in San Diego.
"Jason is truly a CEO of all trades; he's the driving force behind sales, accounting, technology, branding, marketing and more. What has really made him unstoppable is his talent for creating desire and inspiring action in his employees," said Lauren Alexander, Underground Elephant's Director of Marketing.
In this depressed economic climate, Kulpa's dedication to maintaining a unique and extraordinary workplace environment is unmatched. His investment into employee benefits, perks and company culture has earned Underground Elephant recognition as one of the Top 10 Best Places to Work in San Diego by the San Diego Business Journal, praise in numerous media spotlights and a feature on Fox 5 News. His relentless work-ethic, his tenacity to tackle any problem and his tireless devotion to quantify each employee's impact on the company has fostered a workplace environment unlike any other.
Jason Kulpa is an active supporter of his local community and has a passion for philanthropy. Kulpa's charitable contributions include The Big Brothers and Big Sister's organization, The American Red Cross, the Born Free Save an Elephant Foundation and the San Diego State Athletic Department.
About Underground Elephant
Underground Elephant is a global performance-based marketing technology company that specializes in customer acquisition solutions in a wide range of vertical markets. Our proprietary technology platform, NeoKeo 2.0™, funnels qualified inquires through data-driven algorithms to maximize client ROI and increases conversion propensity.
###