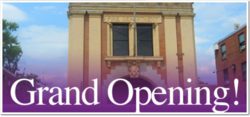 Baltimore, Maryland (PRWEB) December 11, 2011
RTGX is pleased to announce the opening of the Ross Technologies Inc. and Greater Baltimore Cares Technology Center located in the newly renovated Perkins Fire House. The Perkins Fire House will be known as the Power House beginning with the ribbon cutting ceremony on December the 15th 2011. National Cares Mentoring Movement Founder and Editor and Chief Emeritus of Essence Magazine Susan L. Taylor will be a featured speaker at the ribbon cutting. There are no words that can describe the personal sacrifice, commitment and Impact of Susan L. Taylor to keeping the plight of our most vulnerable children front and center in the national dialogue. Greater Baltimore Cares is an independent affiliate of The National Cares Mentoring Movement founded as a result of Susan's inspirational mission to save the children.
The Power House is part of the continuing vision, community empowerment and mentoring efforts of the Living Classrooms Foundation. The Power House will act as a Community Center and a platform for mentoring the children of the community surrounding the Power House. RTGX and its partner Greater Baltimore Cares, a charitable organization have embarked on mentoring initiatives that leverage technology as a means towards accelerating that path to better test scores, reducing truancy and providing the tools to our most at risk youth to strive for success in our ever increasing technology based society. Knowledge is power and technology can help a child reach beyond the confines of their home, neighborhood and circumstances. It allows children to explore their dreams, learn new languages, explore mathematics skills and to visit exotic lands. Technology is a path of never ending possibilities.
Technology based mentoring compliments the value of person to person mentoring efforts and expands mentoring opportunities when used in combination with modern collaboration and internet video technologies.
RTGX is an award winning Cyber Technology, Data Analytics and Flash Storage solutions company headquartered in Baltimore Maryland that serves its clients throughout the United States and Europe. The company is headquartered at the University of Maryland Baltimore County Research Park, the region's leading center of Cyber and Technology based research and innovation. Customers from the Intelligence Community, Law Enforcement, Department of Defense, Finance and Healthcare sectors rely on RTGX to keep them at the forefront of cyber protective measures, cyber discovery, network infrastructure best practices and Big Data Analytics.
RTGX wants to lead by example in demonstrating that small businesses can make a difference in their communities and empower the next generation. Come join us at http://www.rtgx.com and in our charitable efforts at http://www.baltimorecares.org/.
###