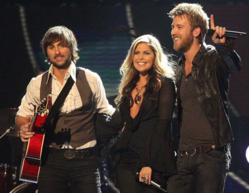 If you are one of the millions of people who are captivated by the unique sounds of the Southern-based group, the time to buy Lady Antebellum tickets is now—before they sell out
Campbell, CA (PRWEB) December 10, 2011
The wildly popular country trio known as Lady Antebellum has just embarked on a massive tour that weaves back and forth throughout America over the course of the next seven months. Top Notch Seats, the premier Bay Area ticket broker, is proud to announce they have Lady Antebellum Concert Tickets available for purchase now.
"If you are one of the millions of people who are captivated by the unique sounds of the Southern-based group, the time to buy Lady Antebellum tickets is now—before they sell out," said Paul Hillig of Top Notch Seats.
It feels like the talented trio has been around since before the turn of the century, but Lady Antebellum was actually formed in 2006, a mere five years ago, in Nashville, Tennessee. The band is the brainchild of Charles Kelley, who convinced longtime friend Dave Haywood to meet him in the country music hub of the world to pursue their dreams. They soon met up with country vixen Hillary Scott, and the rest is history.
By the time the monster tour makes its way to the great state of California, all potential performance kinks wil surely be ironed out. In addition to Lady Antebellum, festivities will include Darius Rucker and the band Thompson Square, making the price of Lady Antebellum concert tickets even more valuable.
The tour touches down in San Jose at the HP Pavilion on Friday, March 23, 2012. It then moves to the Staples Center in Los Angeles on March 27th and works its way north to the Save Mart Center in Fresno on Wednesday the 28th and the Power Balance Pavilion in Sacramento on Thursday, March 29th.
Given the widespread popularity of the group, which specializes in smooth harmonies and passionate ballads, tickets to each and every Lady Antebellum show are sure to go quickly.
For more information about the Lady Antebellum concert tour or any other concert or sports event, visit Top Notch Seats online at TopNotchSeats.com.
About Top Notch Seats
Operating from the heart of Silicon Valley since 1993, Top Notch Seats is an online leader in secure ticket sales. TNS supplies audiences with quality seating and tickets to all major concerts, theatre and sports events in the Bay Area and around the nation.
Top Notch Seats specializes in providing Bay Area concert tickets with a wide variety of seating options, which enables customers to choose their favorite vantage point. TNS is a licensed Bay Area ticket broker engaged in the business of buying and selling first-rate tickets. They do not sell tickets at face value; ticket prices are often well above face value and reflect the cost of obtaining quality seating.
###