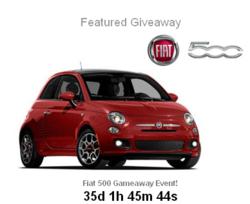 Kliqo is the easiest online game you've ever played—and the most rewarding
San Francisco, CA (PRWEB) December 10, 2011
On January 13 at 8:00 PDT, one lucky person will win a brand-new Fiat 500 with the simple click of a button. The car giveaway is one of the many prizes offered by Kliqo, a social media gaming platform that rewards players with great swag from a variety of sponsors.
"Kliqo is the easiest online game you've ever played—and the most rewarding," says Richard Lee, CEO of Kliqo. "By being on the right website at the right time, you could win a brand-new Fiat 500 or dozens of other incredible prizes."
Players simply sign up at Kliqo.com by entering their Facebook or email account. Every Friday, users compete to win various prizes as soon as the countdown clock hits 0. The first person to click the "Kliqo" button at the top of the page wins the prize. It's that simple.
Other fantastic prizes being given away every Friday on Kliqo include a Kindle Fire, movie tickets from AMC, an Opena iPhone 4 case with a built-in beer bottle opener, a Spiderpodium adjustable iPad holder, an Akai Pro MPK compact laptop keyboard with drum pads, Tembo Trunks music amplifiers, and much more. Check back every Friday for new prizes.
Savvy Kliqo players can get a 1-second advantage by sharing Kliqo on Facebook and following them on Twitter. Players can also practice their clicking skills on the Leaderboard.
Since re-launching the site in November, Kliqo has partnered with more than 20 companies, and counting. Partners love Kliqo because it actively engages users and easily spreads word-of-mouth brand awareness through social media, and because it is much more cost-effective than other online advertising methods.
US advertisers are expected to spend approximately $77 billion on interactive marketing in 2016. But common online advertising methods, which can be very expensive, can have serious downsides. Pay-per-click (PPC) advertising may not reach a large audience due to content limits and ad blindness. Daily deal sites can be effective in reaching customers, but require companies to reduce prices by at least 50% and then take half the proceeds, meaning the company is only getting 25% of the value of their product or service. Many companies barely break even or even lose money with daily deals promotions. Social media is a great way for companies to find and retain customers, but starting a social media campaign from scratch may take a long time to catch on and be expensive to run.
Kliqo solves all of these problems by offering the newest way to capture an online audience: gamification. Unlike PPC, there is no ad blindness on Kliqo; on the contrary, users purposely visit the site to see what participating businesses are promoting. Companies simply pay a small flat fee along with a few free items or services they would like to promote, without having to offer the large number of steep discounts required by daily deals sites. And with Kliqo's built-in network of Facebook and Twitter users, getting the word out through social media is quick and easy.
"With our platform, we not only educate our users of the sponsored product, but we also educate their friends and family through sharing on social networks." states Richard Lee, CEO of Kliqo. "With Kliqo, there is no ad blindness because our users are exposed to the ads in each of our events."
To participate in the Fiat 500 giveaway, or any of Kliqo's giveaways, sign up at http://www.kliqo.com. For information about partnering with Kliqo email cs(at)kliqo(dot)com.
About Kliqo:
Kliqo is a social media platform that combines social networking and gaming features to market and advertise sponsored products. Founded in 2011 and headquartered in Sunnyvale, California, the company specializes in product marketing and advertising through gaming events. Kliqo is currently working with over twenty sponsors and looks to reach out to all business sizes.
###