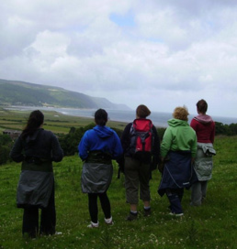 Nu Beginnings employs a challenge but pamper approach that causes them to consistently be ranked a top spa world-wide.
London, United Kingdom (PRWEB) December 12, 2011
Recently, Tatler Magazine ranked the two NuBeginnings workout retreats as Top Spas for 2011 and 2012. NuBeginnings, which is the leading weight loss boot camp, was specifically designed to help clients lose weight in a week. The luxurious retreats were designed to be an intersection of lavish surroundings and a fitness boot camp. The NuBeginnings clients, which have access to different exercise routines that are designed to be both challenging and fat burning, maximize time at the retreat with fitness, health training, and a proper diet.
NuBeginnings has a weight loss retreat in North Devon, United Kingdom and recently opened a new location at Château de Milly in France. Tatler reports that the average guest at "NuBeginnings France" loses around 10 pounds in a week and that its luxurious accommodations that make it one of the best weight loss and fitness boot camps in France.
NuBeginnings was founded by Victoria Wills in order to create a weight loss holiday that would help her clients simultaneously lose weight fast and enjoy their holiday. She strives to create a weight loss holiday that feels like a true holiday and help clients enjoy themselves and relax while they lose weight and exercise.
Since only nine guests are allowed into the English weight loss boot camp per week and ten guests at a time at NuBeginnings France per week, the program is exclusive and provides clients the attention they need. Even the most discriminating guests will enjoy the small, personalized rooms with comfortably lavender eye pillows, Wi-Fi connection and the free standing baths. Although the number of guests is limited, NuBeginnings is open year-around and the second location has made it easier for clients to secure their desired travel itinerary.
Each day begins with a healthy meal and an exercise activity such as a hike. The hikes, which are designed for weight loss, are both grueling and relaxing. After finishing the hike, guests may continue exercising with boxing classes, cardio workouts, interval training, Pilates and stretching. Other activities include beach games such as volleyball, circuit training and cooking demonstrations.
The cooking demonstrations focus on teaching people how to cook and eat low fat, healthy foods. The highly-trained chefs train people to cook and eat foods that have a low glycemic index. These are foods that are slowly digested, keep the body feeling full longer, and prevent blood sugar spikes that can leave people feeling tired. The programs also promote healthy and fast metabolic rates.
Tatler's report focuses mostly on the exercise aspect of the camps. The report explains that while the exercise is intensive, there is plenty of time for relaxation. Tatler refers to the relaxation times as "blessed treats" that include magic massages and hypnotherapy. Although these times are primarily included for client enjoyment and relaxation, they are also used to enhance the overall health of the individual.
Since Victoria Wills strives to provider her clients with the perfect balance between holiday and weight loss, she is not surprised that her spa is consistently rated as a top spa by Tatler. While clients are expected to follow the rigorous exercise routines and improve their eating habits, they are also pampered by world renowned chefs and treated to massages. Visitors are sure to leave the spa feeling healthier, rejuvenated, and will likely tell people that they have had a life-changing experience.
The NuBeginnings uses a "challenge" and "pamper" approach that has caused Tatler to consistently rank them a top weight loss spa worldwide. Due to this unique approach, the luxurious accommodations, and the effectiveness of their weight loss methods, Tatler has once again awarded NuBeginnings with this prestigious honor.
###