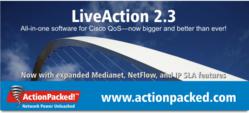 With LiveAction 2.3 we created the most up-to-date tools for Medianet users
Honolulu, HI (PRWEB) December 12, 2011
ActionPacked! Networks, a leading developer of intelligent software for managing Cisco quality-of-service (QoS), today announced a new version of the company's award-winning LiveAction software. LiveAction 2.3, which features expanded support for Cisco Medianet, NetFlow, Routing, IP SLA, and QoS, is now available for immediate download from the ActionPacked! Networks web site.
"Keeping up with growing video traffic loads and network complexity is still a huge challenge for network engineers and IT managers," said ActionPacked! Founder Nelson Kanemoto. "Advancements such as Cisco Medianet are providing more robust video operations and services for the network but these require good management tools and support. With LiveAction 2.3 we created the most up-to-date tools for Medianet users as well as a wealth of new reports, templates, and real-time information dashboards."
Major features and additions introduced with LiveAction 2.3 release include the following:

New QoS features including Cisco Medianet policy templates and fair queuing support
Expanded functionality for Medianet IP SLA VO and Performance Monitoring
Support for Flexible NetFlow and Performance Monitoring with Cisco 3650 and 3750 devices
New information dashboards and views for system level NetFlow and IP SLA data
New custom reports based on user-defined information settings and filters
Ability to set up and manage groups of multiple, concurrent IP SLA tests systemwide
Increased system performance and data capacity for enhanced real-time and historical monitoring
A free, 14-day trial version of LiveAction 2.3 is available now on the ActionPacked! website at http://www.actionpacked.com/liveactiondownload. Extended trials beyond 14-days are available upon request by contacting sales(at)actionpacked(dot)com. Current customers with up-to-date maintenance agreements are eligible for a free software upgrade.
About ActionPacked! Networks
ActionPacked! Networks is the leader in quality-of-service software for implementing VoIP, Telepresence, Unified Communications and other mission-critical services. The company's LiveAction software increases network service quality and shortens outages by providing true understanding and precise control using rich visualizations and direct device interaction. LiveAction leverages the QoS, NetFlow, Routing, and IP SLA features embedded inside Cisco devices to provide the only all-in-one solution that can support both QoS auditing and provisioning. For more information, visit http://www.actionpacked.com.
###