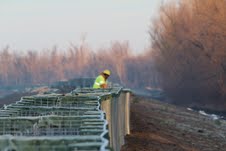 "Farmland and communities will now be safer from river encroachment in Southeast Missouri and HESCO is proud to be an integral part of the remedy," said HESCO USA President Stephanie Victory.
Mississippi County, Missouri (PRWEB) December 10, 2011
Recently the U.S. Army Corps of Engineers (USACE) decided to breach levees in the Birds Point-New Madrid Floodway in Southeast Missouri to relieve pressure from the swollen Mississippi River. As a result, 9,000 lineal feet of HESCO Concertainer® units have been deployed to protect and preserve critical crops and infrastructure.
In May of 2011 the Corps of Engineers stuck explosives into levee pipes to save bordering communities with the result that 130,000 acres of corn, soybean and rice farmland submerged. Now, as the year comes to an end and the winter season descends upon Southeast Missouri, the threat of more flooding is real and experts suggest imminent.
"HESCO is uniquely capable of quickly responding to and successfully assisting in preventing this kind of disaster," said Stephanie Victory, President of HESCO USA.
"HESCO regularly works with the USACE on projects like this which require immediate response and deployment for critically time sensitive projects," added Victory. "As HESCO Concertainer units are distributed and strategically aligned, the current levee height will be raised, containment enhanced, and vital agriculture ultimately preserved in crop-rich Southeastern Missouri."
As the Mississippi River continues to threaten cresting and overflow, La Niña is expected to generate heavy rains into the Lower Mississippi River Valley. Members of the USACE, Missourians and members of HESCO are partnering in an attempt to circumvent disaster.
The levee elevation and flood containment project can be performed expeditiously, 24 hours a day, because of HESCO's product efficiency and resulting in the reduction of manpower necessary to deploy Concertainer units.
"HESCO received the urgent call for assistance along the floodway, and our product and support were there within hours, ensuring containment of possible levee breaches," added Victory. "Farmland and communities will now be safer from river encroachment in Southeast Missouri and HESCO is proud to be an integral part of the remedy."
# # #