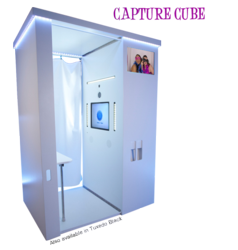 Incredibooths offers a sleek all white wedding photo booth
Hicksville, NY (PRWEB) December 17, 2011
Thinking of renting a new york photo booth? Most searching out the perfect photo booth scour the internet searching for just the right booth; one that looks good and also fits the events theme, motif, and budget! If it was 2008 photo booth hunters would probably only find a few to choose from, but now-a-days the choices seem endless. By breaking down what a photo booth rental company offers shoppers can make the decision that is right for them.
First and foremost look at the photo booths themselves! A real photo booth should not be a few curtains draped over some piping! It should be a real photo booth - you know the kind that grandpa would be proud of. However, that doesn't necessarily mean that you should bring in the neighborhood arcade photo booth for an elegant wedding! Find a photo booth rental that works for you and your theme. But above all else, don't fall for the pipe and drape pitfall! Look for something modern and fun that will compliment your party and feel like it belongs! For an elegant wedding perhaps, Incredibooths offers a sleek all white photo booth called the Capture Cube.
Second, take a look at the company providing the rental. Are they a full time new york photo booth rental company? Do they have an office? Do they answer the phone? Are the responsive to emails? All of these should be clues you can use to determine if your working with a week-end warrior or a professional NY photo booth rental company. Also, in recent years many have added photo booths as an additional service to another business such as DJ or photography services. While some companies are able to do this well, most times the photo booth is just what it seems: a side part of their business, often overlooked when it comes to maintenance and recycling out older models.
Last, ask about the features or options you can choose with your photo booth rental. Any modern photo booth should offer super fast printing (about 7-8 seconds per print), a touchscreen that activates the booth, the option to email or post pics to facebook, to get extra copies, customize the prints themselves and other fun add-ons like a photo scrapbook and props to add some excitement to the experience. Another big thing to look for here is that the company provides an attendant to operate and assist your guests for the entire rental period. If it's a drop and go service you should look elsewhere.
These three basic points should assist in helping to make a great photo booth rental decision. As always more important than anything is to be comfortable - confident that the company chosen can deliver a photo booth as fabulous as the event itself! For more information on renting a photo booth contact Dennis Sea of Incredibooths for helpful tips, insights and of course great photo booth rentals!
Incredibooths NY Photo Booth Rental services the entire tri-state area. For booking information please call toll-free 888-475-8590 or visit incredibooths.com
###