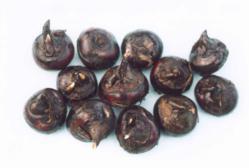 Photoperiod Management @ VolkerKleinhenz.com
Phnom Penh, Cambodia (PRWEB) December 11, 2011
Besides his Curriculum vitae, a number of presentations developed during his employment for scientific, commercial and rural-development companies, and several packages of cultivation practices for different crops, the Horticultural Crop Management Website of Dr. agr. Volker Kleinhenz covers his scientific publications from 1991. Between 1998 and 2000 he authored and co-authored three publications on photoperiod management in the ethnic crop Chinese waterchestnut.
Light is one of the important environmental factors in the development of plants. The effects of light may result from variations in wavelength, intensity or duration (photoperiod). For many species, photoperiod plays an important role in the formation of underground organs. The use of lights to "extend" the daylength is common to some cutflower industries. This induces plants that normally flower in the summer to flower in the winter.
The first publication on "Physiological studies on Chinese Water Chestnut" covers results of a series of trials in which the photoperiod which is the daily length of the light period was artificially altered by either turning on lights above waterchestnut plants during the evening and into the night to make them believe they were growing under daylengths longer than the natural, or by transferring waterchestnut plants into dark, light-proof compartments before the end of the natural daylength to make them believe they were growing in daylengths shorter than the natural. Chinese waterchestnut exhibited a strong response to photoperiod. Photoperiods ranging from 8 to 24 h did not significantly affect plant dry matter and dry matter partitioning to stems and roots. Under 8 h photoperiod however, dry matter allocated to stems was greatly reduced with the balance found in newly-formed corms.
Results of studies on "Photoperiodic effects on corm initiation and biomass partitioning in two Chinese waterchestnut origins" indicate that vegetative biomass was significantly lower, corm number and weight significantly higher and, consequently, harvest indices significantly greater when waterchestnut plants were grown under 8, 12 and (12.5-11) hour photoperiods. These results indicate that the critical daylength below which corm formation is initiated lies between 8-14 daylight hours.
The third and most significant article on Horticultural Photoperiod Management in Chinese Waterchestnuts is a paper on "Response of Chinese waterchestnut (Eleocharis dulcis (Burm. F.) Hensch) to photoperiod" published in the "Journal of Horticultural Sciences and Biotechnology". Results of six experiments indicate that corm formation in Chinese waterchestnuts was strongly retarded by long days but promoted by the photoperiods which were shorter than a critical maximum. The critical photoperiod was between 12.0-12.5 hours, below which corm formation was rapid, and above which it was non-existent or minimal. The data provide evidence for the ability to manipulate timing of harvest at the field scale to extend availability of fresh produce on the market.
Besides providing an overview of his scientific publications, Volker's homepage includes a continuously updated Curriculum vitae. Besides his recent assignments as a referee for the premium international agricultural journal Scientia Horticulturae and the Journal of Agriculture and Rural Development in the Tropics and Subtropics (JARTS), it also includes his latest consultation on Supplier Quality Management.
These details are also available at Volker Kleinhenz's LinkedIn profile, his homepage at the Asian Institute of Technology (AIT) in Thailand and his Twitter account @VolkerKleinhenz.
###