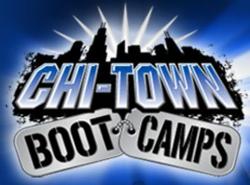 (PRWEB) December 16, 2011
Local residents are getting a jumpstart on their weight loss efforts with the Chi-Town Chicago Gym boot camps program. Thanks to boot camp, gym participants have been able to drop up to 70 pounds and 14 clothing sizes in just six months. Results are readily visible even after 1-2 months, when exercisers report weight losses of 10-20 pounds. While the "boot camp" name may sound intimidating, it's really not as bad as it sounds.
"People sometimes imagine a military drill sergeant barking out 'Drop and give me 20' orders," says Chicago boot camp owner Craig Kastning, "but really, it's a lot more fun than that! We're doing obstacle courses, we're working out with giant inflatable exercise balls, we're listening to music. I am here to give people the push they need to change their lifestyles and maintain a workout schedule. Working out needs to be a non-negotiable."
The Chicago gym weight loss program begins with a $1 new member assessment, which includes personalized nutrition counseling and meal planning, fitness testing, goal setting, medical condition counseling, and workout scheduling. "They were not just great with the workout routines; they provided nutritional education that was simply priceless," says Joely Lenz, who lost 32 pounds in 12 weeks. Randy Pruitt, who lost a combined total of 80 pounds with his wife in the program, says that even before he could see the changes, he could "feel" them with the increase in energy and alertness, thanks to his new diet and fitness regimen.
Boot camp sessions at the Boot Camp Chicago appeal to people who classify themselves as having "low workout tolerance" and even people who admit that they typically "hate exercising." The motivational words of the trainer, the varied-yet-challenging workouts, and the group atmosphere all encourage an increased commitment to fitness. Perhaps the most motivation comes when people see dramatic results in such a short period of time.
John Forrest lost 30 pounds of fat and gained 10 pounds of lean muscle mass. Jennifer Widger lost 45 pounds and six sizes. Tobi Davidson lost 45 pounds in 12 weeks. Brian Pinon lost 55 pounds. Joely Lenz lost 32 pounds in 12 weeks. Wanda Wasserman lost 101 pounds and went from a size 22 to a size 6. The "proof is in the pudding," as they say, so Chicagoans who are interested in losing weight in 2012 should take advantage of this special offer to receive their fitness assessment and weight loss plan for $1 and give a week of boot camp classes a try to see if this program is for them.
###